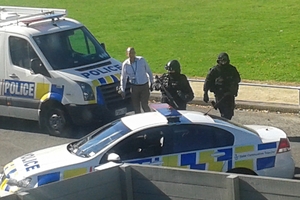 Eyewitnesses have described seeing armed police swarm a Palmerston North house before holding a gun to a man's head following a gang-related shooting.
Police have confirmed search warrants were executed at various properties in Highbury today after a block of flats was shot at last night.
An eyewitness who wished to remain anonymous said she and friend were on their way out just before 1pm this afternoon when they saw police cars lining Botanical Road.
The pair decided to return home saying they "knew something was about to happen''.
At least six police officers wearing black suits entered a Farnham Street property, according to the duo.
The witness said as she tried to retrieve something from this property she saw police holding someone on the ground.
"They were in the shed. I saw a guy with a black mask standing over someone on the ground - they had a gun pointed at his head.''
Police communications manager Sara Stravopolous could not confirm if any arrests had been made but said police officers had been searching properties throughout the area.
The witness claimed she heard three shots the night before but did not go out to investigate.
"You just lock the door and mind your own business. This trouble only started because one man from one gang moved in shortly after a member of another gang had just moved in.
"They have just clashed.''
The women said this was the first sign of trouble the street had seen in the last two years.
Mrs Stravopolous said police were still investigating and anyone with information should contact the Palmerston North CIB on (06) 351 3600.