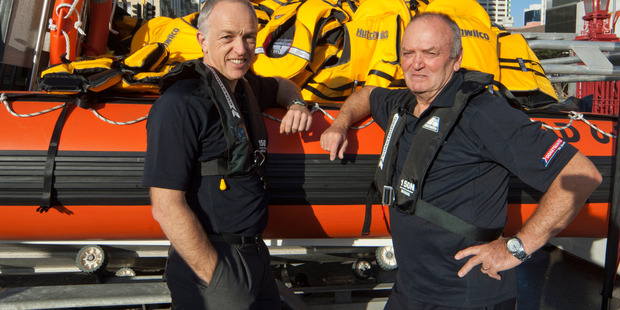 World Cup-winning All Black coach and knight - and now Sir Graham Henry has another title: Coastguard New Zealand ambassador.
Sir Graham has been named ambassador for the coastguard's third annual MayDay fundraising appeal.
As part of his role, the keen fisherman had a simple message for water-going Kiwis.
"Coastguard is the charity saving lives at sea and relies heavily on its extensive network of volunteers who are trained using the money raised during the MayDay Appeal," he said.
"Lifejackets save lives, so don't get on a boat without one. It's as simple as that."
The appeal raises money for the coastguard's "Train One, Save Many" volunteer training programme.
It is estimated that volunteers will donate more than 200,000 hours of their time and save more than 7100 lives this year alone. As part of the 2013 MayDay Appeal, New Zealanders are encouraged to donate an hour of their time at work and give that hour's pay to the coastguard.
"Hour For Coastguard means that Kiwis can tailor their donation to suit their income and at the same time play an important role in supporting the 2013 MayDay Appeal by helping ensure our volunteers get the training they need to save lives at sea," said Coastguard New Zealand chief executive Patrick Holmes.
"A simple online tool lets you calculate how much money you could donate to coastguard, equivalent to an hour of work at your job."
Mr Holmes outlined how donors' money could help the organisation:
$32 will service a volunteer's lifejacket to ensure it will operate successfully when needed.
$70 provides search and rescue training for one volunteer for a fortnight.
$150 will buy a lifejacket.
$295 pays for repairs and maintenance on a rescue vessel for a month, to ensure the vessel is response-ready.
$470 provides essential wet weather gear.
$910 provides six months of search and rescue training.
Mr Holmes said 2429 volunteers are involved with the organisation, and on average, three people are rescued by every coastguard volunteer each year.
Support coastguard
* Hour For Coastguard - donate an hour of your pay at www.hourforcoastguard.co.nz
* Visit www.coastguard.co.nz to donate online
* Make an automatic $25 donation by calling 0900-SOS-SOS (0900-767-767)
* Direct into the Coastguard ASB account 12-3209-0434030-01 (Please reference with MayDay and your SURNAME)
* Send a cheque to Coastguard at PO Box 33559, Takapuna, Auckland
* Call in to your local ASB to make a donation and tell them it's for Coastguard's MayDay Appeal.