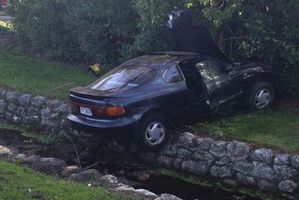 A driver escaped serious injury after he blacked out at the wheel and his runaway car ploughed across three Masterton properties before the motor blew amid a cloud of smoke.
The two-door Toyota car came to a dead stop against the fence of longtime Third St resident Paddy Rice, who was the first bystander to the stricken car alongside his brother Terry just after 3pm on Saturday.
Mr Rice said the car motor was "going full noise"and a front wheel was smoking while spinning against a large rock dislodged from a stream across which the car had hurtled.
"There was so much smoke, you couldn't see the car. Then a tyre blew and shredded itself and about a minute later the motor blew," Mr Rice said.
Terry Rice said his brother had unclasped the seatbelt of the man, who instantly bolted upright in his car seat and screamed.
"After the smoke cleared we saw the driver slumped over the steering wheel. I thought he was dead. But Paddy said we've got to get him out because it looked like the lot could go up in flames."
Mike Cornford, Masterton fire service Station officer said firefighters, police and paramedics were called to the scene of the crash. The fire crew had helped free the driver and secure him in a stretcher.
He said there were no other vehicles involved in the incident and an ambulance took the man to Wairarapa Hospital for further treatment.
The runaway journey started as the car passed the former Totara Drive School, sideswiping a zebra crossing sign about 400m north of the Rice property.
The vehicle then tore through a section of concrete block fencing surrounding a property on the corner of Stamford Pl and Third St, uprooting and snapping trees before bouncing off the front of the house and careering through another fence and across the front lawn of the neighbouring property.
The elderly woman owner of the corner home had been away at the time and the 84-year-old male owner of the next door property had been indoors, and thought "a truck was going past".
The vehicle next travelled across a public walkway area bordering the second home and came to rest with its back wheels dangling above the far bank of the three-metre wide stream.
The driver returned to the crash scene late yesterday morning in search of his vehicle, which had been towed from the site. He had spoken briefly about the incident to Mr Rice and his brother, the men said.
He seemed dazed and was shaking during his conversation with the pair yesterday, Mr Rice said, but apart from a sore hand "didn't have a mark on him".
The man, who had a birthday on Saturday, told the brothers he had suffered a seizure and remembered nothing of the crash.
wta gf
For more articles from this region, go to Wairarapa Times-Age