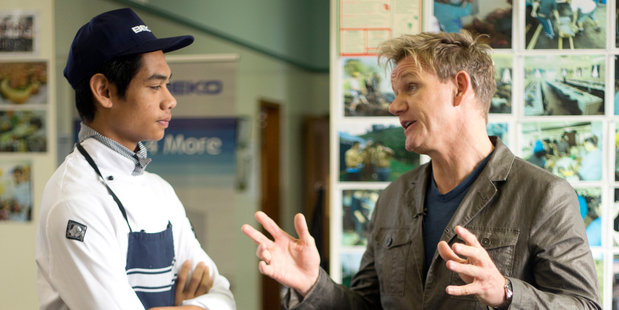 A South Auckland teenager has been helped in his dream to crack the culinary world - an invitation to call on superstar chef Gordon Ramsay issued by the man himself.
Ramsay, whose television shows include Hell's Kitchen and F-Word, is briefly in New Zealand and spoke at a corporate Dinner with Gordon Ramsay event at Auckland's Vodafone Events Centre last night.
But earlier the famously foul-mouthed celebrity chef stopped by Papakura High School in South Auckland.
After being welcomed with a powhiri, he was taken through the school kitchen, where a group of students were busy preparing food for a wedding today.
Ramsay got talking with Antony Kapeli Sua, 17, who said he wanted to be a chef and asked if he should go to Paris after school to learn his trade.
The answer was a resounding "yes".
"And stop by and see me in London on the way," Ramsay added.
After the meeting a slightly stunned Antony told the Weekend Herald he planned to take up the offer.
"I'm going to take his word on that, I'm going to take his email and hunt him down ... I'd love to go to France or Paris and study. If you want to be a chef, that's the main place you've got to go.
"You don't expect to see him right there. To have seen him on TV and have his books at home. I look up to him and what he's doing."
Ramsay stopped by the work bench of Hinerangi Isaac and Stevie-Ray Tekawa, both 17, and quizzed them about how they would prepare and dress their bok choy, and whether the creme brulee would contain fresh vanilla (it would).
After he had moved on to quiz other students, the two admitted their hearts were pounding during the questioning.
Hinerangi said she was speechless, but had adopted a simple tactic to cope with the pressure of Ramsay's shadow: "I just stopped cutting."
Principal Peter Heron said that to have Ramsay come to the decile two school was a huge self-esteem boost for the students. He wasn't worried about them copping a spray, either.
"They are doing very well, they are used to working under high pressure, they do a lot of functions already."
Last night's dinner, sponsored by appliance supplier Beko, will help raise money for The Rising Foundation, and many of the children at the school were involved in the foundation's programme, which aims to assist at-risk youth.