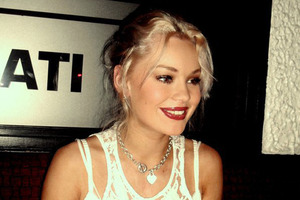 Five minutes was all the time three Court of Appeal judges needed to reach a decision.
"The appeal against conviction is dismissed," said Igor Judge, the Lord Chief Justice of England and Wales.
"The appeal against sentence is dismissed."
Elliot Turner, only minutes earlier described by his lawyer as spoiled and immature, smirked, then shook his head. He muttered something to the guard before being marched back to the cells.
The 21-year-old's bid to be freed had failed; Turner will serve at least 16 years of a life sentence for murdering his girlfriend, former Aucklander Emily Longley.
Her mother, Caroline, was sitting in the courtroom at the Royal Courts of Justice, wanting to show Turner that Emily lived on through her family.
On hearing the news that Emily's killer was going back to jail, she turned around to hug members of her family's large group of supporters.
Emily's father, Mark Longley, sat still, leaning forward with his face in his hands crying softly with a friend's hand on his shoulder.
Outside the courtroom, he told journalists that the tension of not knowing what the judges would say had overwhelmed him.
"I had absolutely no idea which way the judges were leaning. During the murder trial, I got the impression of who the jury believed.
"But these judges were stony-faced. Who knew what was going through their heads? So I was a lot more emotional than when I heard the guilty verdict because I was expecting that result."
The dismissal of Turner's appeal against his murder conviction ends two long years for the Longley family.
He strangled Emily in a fit of jealous rage in May 2011, followed by a police investigation which had to unravel the lies of the Turner family trying to cover up the crime and a five-week trial which ended a year later.
"It's been horrendous," said Mr Longley. "I can't even begin to describe learning how to live without our daughter.
"You try to keep them safe," added his former wife. "You worry about drugs and alcohol, those sorts of things. But you never imagine your daughter is going to be murdered. So when it happens, it's hard to believe. It still seems quite surreal."
Wearing a white ribbon pin - the symbol of a campaign to end violence by men against women - Mr Longley said he and Caroline wanted to raise awareness of the serious issue.
Their daughter had been the subject of an intense and escalating obsession by Turner, which included verbal abuse, violence and threats to kill her.
Those tell-tale warning signs were ignored by Emily and those around her, said Mr Longley.
Mrs Longley said it had been important to make the long trip from New Zealand to be present in court for the decision.
"I just wanted him to look across and see something of Emily in me; the light that he snuffed out. She goes on living through us. I didn't expect to hear any remorse from him."
The pair were "annoyed" that Turner had prolonged their agony through the appeal process, but felt only joy and relief at the judges' decision.
"It was really nice to see him walk off back to prison," said Mr Longley.