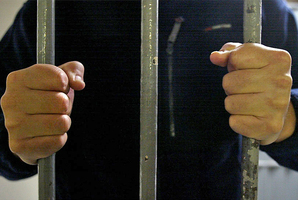 The partner of runaway prisoner David Lothien appeared in Napier District Court yesterday to plead guilty to assisting an escape by harbouring a criminal.
Renee Michelle Cross, 29, was contacted by Lothien on April 17 after his escape from a Corrections van in Dannevirke when it stopped for petrol.
Her lawyer, Philip Ross, said his client did not encourage the escape but felt a degree of loyalty towards her partner after learning he was on the run.
"The decision to assist was spontaneous and, as it turned out, ill-fated as he was rounded up just three days later."
He said a sentence of community work would be adequate to denounce and meet the level of criminality.
In the three days following Lothien's escape Cross was observed by Police transporting the escapee in her vehicle and buying food for him.
Judge Anna-Marie Skellern said the matter was not one to be taken lightly.
"This is a serious matter, the charge carries a sentence of seven years' imprisonment. This is what could be imposed on you."
Judge Skellern noted that the period in which Cross assisted Lothien was relatively short, she had no similar criminal history and had pleaded guilty at the first opportunity.
Cross was sentenced to 150 hours' community work.
Lothien was arrested last Saturday at Park Island in Napier where he was watching a young family member play rugby.
The 21-year-old tried to escape on foot but was quickly caught by police.
He was being transported to Hawke's Bay Regional Prison from Spring Hill Prison in Waikato via Manawatu when he broke out of the van.
He appeared in court on Monday and entered no plea to a charge of one count of escaping police custody. He was remanded in custody and will reappear on May 8.
For more articles from this region, go to Hawkes Bay Today