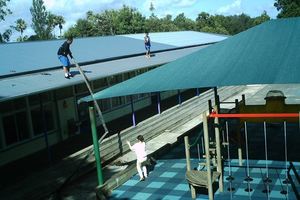 Copper thieves have struck the Bay of Islands Hospital and stripped a building of valuable downpipes.
About 12 metres of 10cm-diameter copper downpipes were stolen from the community mental heath facility in Kawakawa's hospital complex on Monday night.
Senior Sergeant Peter Robinson, of Kerikeri police, said the health board's fixed budget meant extra maintenance and repairs resulted in less money for other areas, potentially affecting health programmes.
"They're attacking a public asset that provides a service to the community, possibly also to their own family and friends," Mr Robinson said.
Local scrap dealers had been contacted and asked to be on the alert.
Copper thefts tended to be cyclical but had eased off recently in the region, Mr Robinson said.
Bay of Islands Hospital operations manager Shirley August said the theft was "a great disappointment".
"Now we have to divert money towards something that did not need replacing, and will not be able to use that money for the health of our community," she said.
Mr Robinson urged anyone with information about the theft to call Kawakawa Police on 09 404 3150 or Crimestoppers on 0800 555 111.
Meanwhile, police are still looking for the people behind a brazen theft of spouting and downpipes from Kaitaia Primary School during the summer.
The copper was stolen in broad daylight on the morning of January 5. Despite high-resolution CCTV images showing a man on the roof passing guttering to a woman on the ground below, no one has been able to identify the offenders.
Anyone with information about the Kaitaia theft, or who can identify the people, should call Houhora police on 09 409 8822 or Kaitaia police on 09 408 6500.
For more articles from this region, go to Northern Advocate