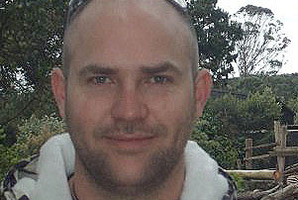 Convicted child killer Jeremy McLaughlin was deported to New Zealand after serving a manslaughter conviction in Australia - but was not subject to any release conditions, police confirmed today.
McLaughlin, 35, was convicted of his second killing yesterday after a jury found him guilty of strangling to death Christchurch schoolgirl Jade Bayliss in November 2011.
And once the guilty verdict was handed down, it could be revealed for the first time that he'd killed before.
In 1995, he bashed 14-year-old Phillip Vidot with a cricket bat, while a mate ran him over in a brutal attack in Perth, Western Australia in 1995.
He was originally charged with murder, but in 1997 a jury acquitted him and co-accused Craig Brian Wood and instead found them guilty of manslaughter, sparking national outrage.
McLaughlin, then 19, was sentenced to 12 years in jail but after just four years, was deported back to his native New Zealand in 2001.
On his arrival, police were advised of the manslaughter conviction, but he was not subject to any release conditions or monitoring because the crime occurred in another jurisdiction.
Today, Christchurch police confirmed that they knew of McLaughlin's dark past, but were unable to tell anybody about it - even Jade's mother, Tina who had become worried about McLaughlin's behaviour after ending a four-week relationship with him just weeks before he killed her eldest child.
Unaware of his previous convictions, she even sought trespass papers against him.
The case has now prompted calls to change the legislation surrounding the publicly available information about violent offenders.
But in the McLaughlin situation, the police had their hands tied, according to Detective Inspector Tom Fitzgerald, Canterbury Police Criminal Investigations Manager.
"If a person has legitimately completed their sentence served in another country and been released, New Zealand authorities have no legal mandate to impose further conditions upon their release,'' he said.
"Under New Zealand law there are constraints on what police can disclose to other parties about a person's previous criminal history.''
While he wouldn't comment on the specifics of Bayliss case before McLaughlin is sentenced in June, he outlined the procedure once McLaughlin got deported back to his homeland.
New Zealand Police were advised of his 2001 deportation through the NZ Police Liaison Office in Sydney, who had been advised by Australian immigration authorities.
Information regarding his convictions was also noted in 2001.
"The general process is that where New Zealand Police receive appropriate notification from a foreign law enforcement agency about the return of New Zealanders who have been convicted of crimes and served sentences in another country, NZ Police, through Interpol, will seek to obtain as much relevant information as possible about that person's background,'' Mr Fitzgerald said.
"However, the type of information that may be obtained will be influenced by the deporting country's privacy laws and other applicable legislation.''
Prime Minister John Key said Justice Minister Judith Collins was reviewing the current rules.
Mr Key was asked today if the Government would consider a law change to allow police to flag criminal backgrounds to family members and others.
"I don't know whether there needs to be a law change but I know the Minister of Justice is going to look at that issue.
"There already are a certain number of areas where ... information can be shared and with various different parties.''
A similar call was made after Ewen McDonald was found not guilty of murdering Fielding farmer Scott Guy.
Macdonald, 32, killed 19 calves by hitting them on the head after a farmer caught him and a young accomplice, Callum Boe, poaching deer in June 2007.
He also burnt down a 110-year-old whare and emptied a milk vat on a neighbouring farm, causing thousands of dollars of milk to be lost.
The charges were kept from the murder trial jury because the trial judge, Justice Simon France, ruled them inadmissible, partly because they would have been too prejudical.
Sensible Sentencing Trust spokesman Garth McVicar said the murder of Jade Bayliss was an example of why New Zealand needed a public database of serious criminals.
The trust said there was no co-operation between Australia and New Zealand when dealing with offenders on parole.
Mr McVicar said McLaughlin came to New Zealand as a free agent with no parole conditions to adhere to.
He said there needs to be a law change so parole boards in both countries can share information about convicted offenders.
The Parole Board said it has no jurisdiction over any person deported to New Zealand.
Phillip Vidot's brother Lawrence today spoke of his anger that McLaughlin has killed again - on the 16th anniversary of his brother's death.
"Though his sentence gives me a little smile on my face, it doesn't do anything justice wise. I don't think anything will,'' he wrote on facebook.
"This justice system is a joke and you can literally kill someone and spend four years in jail for your crime.''
Mr Vidot sent his thoughts and prayers to Bayliss family, saying he shared their pain.
- APNZ