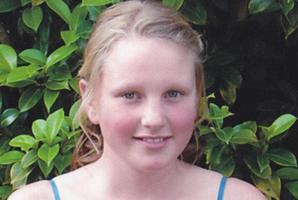 The man convicted of murdering Christchurch schoolgirl Jade Bayliss had killed a child before.
A jury of seven women and five men - who weren't allowed to know Jeremy 'Dingo' McLaughlin's criminal history - took just two hours to find him guilty of killing Jade, his ex-partner's daughter, on November 10, 2011.
McLaughlin, 35, had denied strangling the 13-year-old schoolgirl with a piece of cord, stuffing socks in her mouth, dousing her Christchurch house in petrol and setting it ablaze.
But it can today be reported that he has served a prison sentence in Australia for killing 14-year-old Phillip Vidot in Western Australia in 1995.
McLaughlin bashed the boy with a cricket bat, while a mate ran him over in a car.
He was originally charged with murder, but in 1997 a jury acquitted him and co-accused Craig Brian Wood of murder, and instead found them guilty of manslaughter.
McLaughlin was sentenced to 12 years in jail but after just four years, was deported back to his native New Zealand in 2001.
On his arrival police were advised of the manslaughter conviction, but he was not subject to any release conditions or monitoring because the crime occurred in another jurisdiction.
However, his previous offending is likely to be taken into account when he is sentenced on June 13.
When the jury reached their verdict of guilty at the High Court in Christchurch today, the dead girl's mum, Tina Bayliss broke down in tears.
Justice Graham Panckhurst who oversaw the eight days of evidence, told the jury: "For what it's worth, I agree entirely with your verdict."
Outside court, Mrs Bayliss was supported by friends and family as she paid tribute to her "bright, beautiful, bubbly girl".
"On behalf of my family, I would like to say that we are all incredibly relieved that the trial is over, and that the jury has found Jeremy McLaughlin guilty for murder," she said.
"Jade is a great loss to our family and unfortunately this verdict will not change the fact she is no longer with us. This is something we have been trying to come to terms with for the past 17 months and it is extremely difficult to convey how this has affected us.
"Jade was a bright, beautiful, bubbly girl who was kind and loving and this is how we will remember her.
"We all love her very much and we will miss her every day."
Her dad Gary, who stormed out of court yesterday when McLaughlin was on the stand, said in a statement that the family was "extremely relieved" the trial was over and the jury had found McLaughlin guilty.
"We hope the sentence that is handed down to him reflects the seriousness of his crime," he said.
McLaughlin had admitted the burglary and arson charges at the start of his trial but claimed he never saw the girl - who had no respect for him and used to mock his speech impediment - the day she died.
The jury, however, concluded that he must have killed the girl, probably after she disturbed him burgling the family home.
Once he'd killed her, and pawned off stolen TVs and game consoles for overdue rent payments, he returned to torch the Barrington St property, the Crown said.
Pathologist Dr Katherine White concluded that Jade died of strangulation before the fire broke out.
DNA found under the dead girl's fingernails matched McLaughlin's profile.
Detective Senior Sergeant John Rae, who headed the murder investigation, became emotional when speaking about the case after the guilty verdict.
"The shock of this case is not just that someone's been killed, not just that a wee girl has been killed, but that fact she was killed in her own home, where we all expect our kids to be safe," he said, fighting back tears.
- Additional reporting by The West Australian
- APNZ