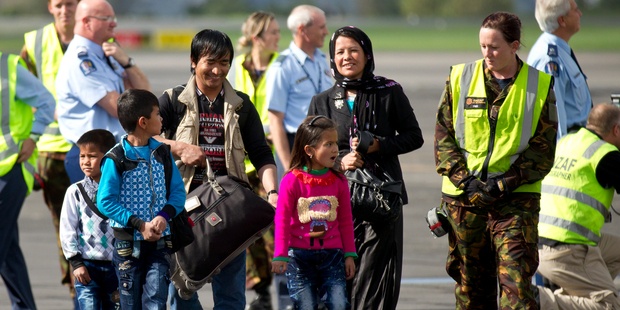 Thirty Afghan interpreters and their families arrived to start new lives in New Zealand today.
The group of 94 landed at Whenuapai air base in Auckland this morning.
The Government offered them resettlement in return for the work with the New Zealand Provincial Reconstruction Team and police in Bamiyan province.
Immigration Minister Michael Woodhouse said the interpreters had played a vital role.
"I am delighted to welcome them and their families to start their new life in New Zealand and I am sure they will settle well into their new country and make a meaningful contribution.
"The resettlement offer reflected the Government's view that we should demonstrate a duty of care to personnel who risked their lives to help New Zealanders," said Mr Woodhouse.
The interpreters and their families will spend their first eight weeks in New Zealand at the Mangere refugee resettlement centre in Auckland where they will take part in a programme preparing them for life in New Zealand.
They will be resettled in Hamilton and Palmerston North and be supported by the New Zealand Red Cross and other organisations as they look for work.
The group was welcomed at Whenuapai by Police Commissioner Peter Marshall.
"We have been extremely well served by these professionals who were so vital to the success of the New Zealand Police contingent in Bamiyan," he said.
"I had the privilege of meeting many of the language assistants during my recent visit to Bamiyan as part of the official delegation marking the conclusion of New Zealand support for the PRT.
"I'm also heartened by numerous offers of help for the Afghan families from our staff to help them settle in New Zealand."
The police were in Bamiyan to help their Afghan counterparts with training, management and leadership.
- APNZ