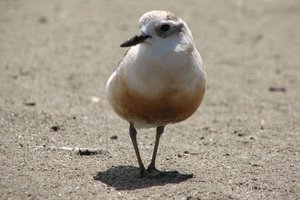 The Rena disaster posed a grave question for ecologists racing to save the Bay of Plenty's precious population of endangered New Zealand dotterels.
Should they rescue all of them, risking their deaths from stress in captivity, or leave them in the path of the oil?
They made a grim gamble - taking half the birds as potential insurance to later re-establish the population.
"In previous oil spills, people have caught birds - particularly penguins - and moved them out of the way and then let them go again almost straight away," independent shorebird ecologist Dr John Dowding said.
"But we knew if we tried to do that with the dotterels, within 24 hours they would have been right back on beaches where the oil was, so it wouldn't really have helped."
Ultimately, the decision worked out.
Six birds out of 60 died of a stress-associated condition at the Oiled Wildlife Facility - a reasonably successful result given the delicate nature of the tiny, vulnerable species.
Four of the birds required a full wash, which Dr Dowding said would have been "45 minutes of hell".
"We weren't totally flying blind, though - we wouldn't have done it if we didn't have a clue how to look after them in captivity. It was a risk, but we thought it was a controlled risk."
Dr Dowding admitted there were arguments with authorities over which beaches needed to be cleaned first.
"We saw we needed four or five weeks to get the beaches clean, otherwise we'd start losing [the dottrels] in captivity."
Since the release the birds had fared well, and most of the survivors were paired and breeding at hotspots such as Matakana Island and Maketu. Once dotterels began breeding, they typically remained at the same site for many years.
"One year on, numbers at most of the important sites are similar to those before the grounding," he said.
"This is an encouraging result - dotterels can live for up to 30 years, and the one season of disruption needs to be viewed in that context.
"After some losses shortly after release, the birds held in captivity also appear to have readjusted to life in the wild, showing normal rates of survival and dispersal, and typical levels of breeding activity."
National Oiled Wildlife Response Team co-ordinator Kerri Morgan said while the deaths were disappointing, they were not unexpected.
"However, it's encouraging to see that survival rates of released birds have now normalised and hopefully this will continue into the future."