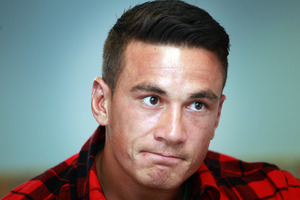 One of Sonny Bill Williams' spiritual mentors was unwittingly thrust into the centre of the Boston terror attacks yesterday.
Wounded terror suspect Dzhokhar Tsarnaev, 19, "retweeted" a statement by Muslim elder Mufti Ismail Menk before he was taken into custody late on Friday night local time.
Tsarnaev's resent message read: "Attitude can take away your beauty no matter how good looking you are or it could enhance your beauty, making you adorable."
Menk immediately distanced himself from Tsarnaev, saying he condemned the bombings and that "the perpetrators must face justice".
Before the boxing bout against Francois Botha in February, Menk sent words of encouragement to Williams.
He tweeted: "All the best my brother. Join me for Umrah after the win!" Umrah is an Arabic word for pilgrimage to Mecca.
Williams replied: "Salams brother pls make dua for me.. Hit you up after". Salam means peace and dua is a word for prayer.