Kiwi soldiers thrilled to be back home after their tour of duty in Afghanistan.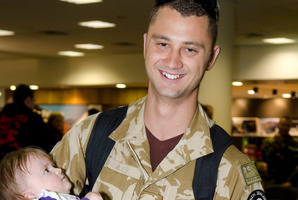 Baby Alex was just five days old when her dad went off to war.
Private Corey Twamley was fighting to give Afghan children the kind of human rights his daughter was born into.
When he returned home yesterday to a hero's welcome, and to hug the baby girl he's missed so dearly over the past six months, he said it was worth the fight.
"She's gorgeous, look how long her hair is," he said as his family showered him with hugs and kisses.
Twamley arrived at Christchurch International Airport about 5pm, with around 60 defence force comrades.
Their arrival home marked the end of the New Zealand Provincial Reconstruction Team's decade-long work in the Bamiyan Province.
When the Kiwi soldiers arrived in 2003, Taleban rule meant girls were banned from school.
Now, half of all pupils are girls and Minister of Defence, Dr Jonathan Coleman, is confident the Afghan authorities are well-placed to continue the good work of the New Zealand troops.
Seeing the smiles of happy school children meant that it was easier for the likes of Twamley to get through his gruelling deployment.
He left New Zealand on October 3, just five days after baby Alex was born.
His partner, Jessica Hanright, 24, said life as a new mum was tough at times.
But she said today would be like meeting his daughter "for the first time", and expects he'll have to ease into the relationship with his first child.
Twamley 's father Grant, from Ashburton, said he was "flaming proud" of his son and believes the Bamiyan people will be sad at the Kiwi departure. "I just hope all their hard work pays off," he said.
Commanding Officer, Lieutenant Colonel Sholto Stephens, was confident the Bamiyan police, who have worked with New Zealand forces for a decade, are well-equipped to continue the work his men had done.
"We're pretty chuffed with what we've achieved," he said.
So was Eleisha Telford, a 20-year-old hairdresser from Christchurch, who's been counting down the days, waiting for partner Dylan Glover to come home.
She organised a large gathering of his colleagues, friends, and family, which will "probably involve a beer or two".
About 40 soldiers with the Theatre Extraction Team remain at Bagram Air Base to continue the final logistics of bringing their gear home over the next month.
- APNZ