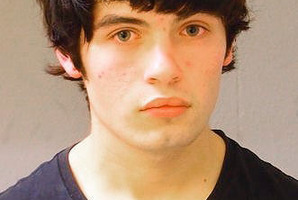 It's every parent's worst nightmare.
A child struggling to find his place in the world goes off the rails and falls in with the wrong crowd.
One night, after drinking and being mugged, he is upset and says the wrong thing to the wrong person - a person with an even unhappier upbringing; someone who grew up with little love, no motherly cuddles when things were dark and no one to traverse the morals of right and wrong.
So when 15-year-old Hayden Miles - thin, weedy, effeminate - told Gavin John Gosnell that his girlfriend was only using him, Gosnell snapped.
The schoolboy took the full force of Gosnell's 27-year-old fury.
Gosnell laughed as he punched, kicked and tortured Hayden, resulting in injuries that would lead to his death.
As bad as that was, the next morning Gosnell decided to cover his tracks in the most gruesome way.
He got a knife from the kitchen and tried to cut up the body. Thwarted, he found a cheap $20 jig-saw, which was much more efficient.
He dismembered the boy's body into 12 pieces, bagged them up, buried the organs in the backyard of his decrepit, former tinnie-house in Cashel St, Linwood, and took the other limbs in a backpack and rubbish bag under the cloak of darkness to two city graveyards. He dug up two fresh graves, and buried the parts.
The next day, he planned his escape with 18-year-old girlfriend Nicolette Vaux-Phillips - who witnessed the horrifyingly prolonged and brutal beating - to Dunedin, where he grew up in foster care.
A few months later, police caught up with him.
This week, Gosnell was found guilty of murder by a High Court jury in Christchurch after he had been asked to be convicted of manslaughter, saying he never meant to kill the boy.
The devastated Miles family were desperate for a murder conviction, and they got it. But they may never get over it, even as Gosnell spends a probable life term behind bars.
Gosnell, who showed little emotion throughout the six-day trial, keeping his pony-tailed head bowed throughout, will have a long time to reflect on how he came to this position.
Born into poverty in Lower Hutt, without ever knowing his father, his mum abandoned him before he was three-years-old.
He went into Child, Youth and Family (CYF) care, moving to a foster care home in Dunedin.
"I was raised in CYFs, mate. I was in it for years,'' he told Detective James Haigh in the first of three police interviews over the disappearance, and later, murder, of Hayden.
"I've been in heaps of homes. I've been in the same shit homes, mate ... I was gone for a whole year and they didn't worry about me. I showed up when I was hungry and needed a shower.''
A source close to the Gosnell case spoke about his troubled upbringing, saying there was no doubt he had been "treated badly by adults as a kid''.
"Abused, beaten as a child, how do you develop any trust, or control your anger?'' the source said.
Gosnell moved back up north aged about 10, later going to school at Heretaunga College, Wallaceville, Upper Hutt. His schooling never led to any solid employment and he moved around, searching for work, and love.
He met one woman, who he was together with from 2000 to 2008, and they had two children together, but the relationship ended badly and he left.
Soon afterwards, he was kicked out of an Avalon state house when he trashed it and left it strewn with rubbish. Housing NZ Corporation pursued him for $2500 in damages.
In early 2010, Gosnell took part in a Limited Service Volunteers six-week motivational course at Burnham Military Camp for long-term unemployed, run by Work and Income New Zealand. It was designed to improve his life skills and get him ready for the workforce, but it didn't seem to work.
Gosnell served time in Christchurch Mens' Prison later that year, and was released into the post-earthquake disaster zone where, apart from an uncle, he knew no-one.
In May 2011 - three months before he would kill Hayden, which one witness protected by name suppression claimed Gosnell had fantasized about for years - he moved in to a tiny, dilapidated property at flat 3, 612 Cashel St.
There, with other like-minded lost souls, he would drink away his past with shoplifted booze.
Friends - more like drinking acquaintances who nicknamed him, 'Maori' - would call in for booze and drug sessions.
They were the people he called when he didn't know what to do with Hayden Miles' lifeless body, found on his couch.
But they didn't want to know about it, and left it up to `Maori', to do the right thing.
He didn't.
And now, he has to live with it, as does the bereft Miles family.
Meanwhile, ex-girlfriend Nicolette has a permanent reminder of Gosnell in the shape of a baby, whose dad will not be around because he is in jail for one of New Zealand's most savage and sad murders.
- APNZ