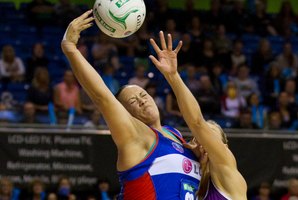 The number of injury compensation claims accepted from netball players has increased sharply, far outstripping the rise in the number of people playing the sport.
The Weekend Herald sought ACC figures after allegations of elite Australian netballers' "thuggery" resurfaced when Queensland Firebirds defender Laura Geitz elbowed Central Pulse player Donna Wilkins in the back this month.
Waikato Bay of Plenty Magic shooter Irene van Dyk later inflamed the transtasman row by claiming that West Coast Fever defenders played "dirty" and "got away with murder".
The ACC figures show netball claims rose even when the number of players dropped in 2009 and 2010.
Most of the ACC claims - 87 per cent last year and 85 per cent in 2008 - were for sprains, strains and other soft-tissue injuries. Eight per cent were for fractures or dislocations last year, down from 9 per cent in 2008.
Netball New Zealand operations manager Kate Agnew said netball was "not a non-contact sport" and she did "not necessarily think that netball across the board is getting more physical".
"In the ANZ Championship, the elite level, the players are pushing themselves more, they're better prepared, they're stronger, fitter, faster, they can jump higher, they are in the air longer."
The ACC statistics did not necessarily show that the game had become more aggressive, Ms Agnew said.
She pointed to the reduction in the cost of claims, to $15.12 million last year from $17.37 million in 2008.
Ms Agnew said the reducing costs indicated the netball injury prevention programme run with ACC was paying dividends.

Contact
Netball injuries 2008-2012
ACC claims accepted: Up 22 per cent
(from 21,504 to 26,321)
Numbers playing: Up 4 per cent
(from 138,510 to 144,040)