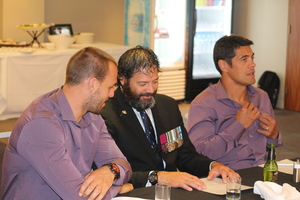 New Zealand league coach Stephen Kearney has tried to get Victoria Cross recipient Willie Apiata to talk to his troops for some time and that wish finally became a reality when he joined them for the team's dinner on the eve of tonight's Anzac test in Canberra.
Apiata was the special guest at the dinner, where he handed out the team's jerseys. He will attend tonight's test.
He was also among the small group of Victoria Cross and George Cross winners at a dinner at Parliament House on Wednesday, which the New Zealand and Australia sides attended. The dinner was organised to help raise funds for wounded returning Australian soldiers.
The Kiwis haven't won the annual Anzac test since 1998 and face a difficult task against a powerful Australian outfit, especially as they are missing the likes of Sonny Bill Williams, Benji Marshall and Jeremy Smith.
"We have known about Willie for quite some time and have tried to get him into the camp for a number of years," Kearney said.
"The thing that strikes me about Willie is that he's a very humble lad and that resonates with the group. He's got a wonderful story to tell and a great history, with his grandfather having gone to Gallipoli, so I know the lads were looking forward to this night."