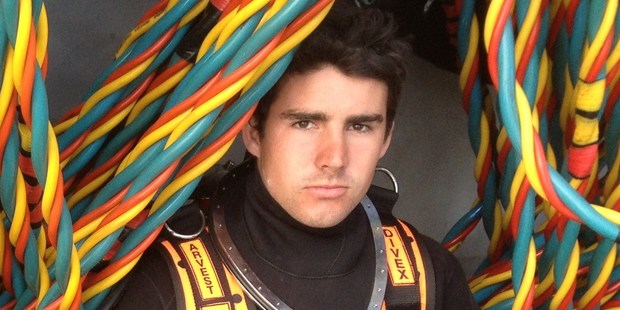 A Navy diver says he nearly drowned when his mask failed while he was deep in the sea to retrieve the plane wreckage in which 2degrees boss Eric Hertz and his wife died.
Able Diver Alan Holland was among a group of eight Navy divers tasked with bringing the bodies of Mr Hertz and his wife Kathy and the wreckage back to shore after the aircraft crashed into the sea near Kawhia.
When sonar equipment revealed the wreckage was about 60m deep, lying on the sea floor, Mr Holland and his diving team were asked to help.
"We were tasked to go retrieve it, put on strops and that sort of stuff," said Mr Holland, 22.
The diving team had nearly reached the wreckage when things went wrong: "We were at 55m and once we were down there, the gear failed. My helmet just flooded.
"I got water in my mask and from there I had to come off the breathing [apparatus] and go into a secondary unit. From there, I was unconscious.
"It was a bit scary, I guess, but I didn't really think about it at the time. I was just thinking about what I had to do. My training kicked in and I did what I had to do, really."
Monitored radio communication among the diving team meant Mr Holland's diving partner was quickly at his side and helped him to the surface.
"I wasn't really conscious when I came up, so I don't really remember too much."
He was taken to Auckland Hospital and discharged the next day.
He said rumours that he'd suffered the bends were untrue but doctors had been unable to offer any distinct diagnosis.
"It's like a near-drowning, then again it's hard to say."
Mr Holland said he did not remember much of what happened once the water came rushing in.
He was now back on deck with the Navy, but on light duties until further notice.
Mr Holland said it was still unknown what happened to his gear but an internal investigation into the incident had begun.
"All I know is my gear failed."
A Navy spokeswoman said an investigation was being carried out.
"We take health and safety very seriously, particularly for divers working in such a challenging environment, and we will be conducting an inquiry into what happened."
For more articles from this region, go to Bay of Plenty Times