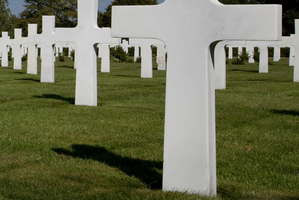 Two Hawkes Bay women who took 15 memorial crosses from a remembrance site for fallen soldiers in Waipawa say they regret their actions, but did the right thing by returning them.
People as far off as Australia expressed outrage after an image surfaced of Cassie Paige and Danni Ransfield in front of a fake "grave" site erected in their back yard.
The photo, which showed them pulling hand signals, with crosses in the background, went viral on Facebook with people sharing it to express their disgust.
It was captioned "we casually made a grave yard at 6am".
There was also a video which documented the pair taking from what one war veteran has described as a "sacred site".
Both women, in their early 20s, said they were "genuinely sorry" for their actions, adding that the incident had caused them a great deal of embarrassment.
"It was a f****** stupid mistake, but it was only one mistake that we made when we were really p*****d. We don't deserve to have our names in the paper," Ms Paige said.
"As soon as we woke up in the morning we thought, 's**t what have we done?' and we took the photos down straight away.
"We've already been embarrassed enough. We had to put the crosses back and people were laughing at us."
They snuck in and took the crosses on Friday night before putting them back in their rightful place the following morning, with a letter of apology.
"That's why we went to police, we know what we did was wrong. We put them back in their holes within hours of taking them, the others that are still missing must have been taken after that."
Due to their co-operation and the fact they had returned the crosses, police have decided that no charges will be laid.
However, police are still trying to track down 10 crosses that remain unaccounted for.
While the women are not in any trouble with the law, an ongoing argument is still raging online about their lack of respect, something the women do not deny.
"People have got the right to their opinions, we are genuinely sorry and we are not denying what we did was wrong."
Returned Waipawa serviceman Wally Malcolm felt the issue had been dealt with appropriately but reiterated his disappointment at what had happened.
"It's only there for this month because of Anzac Day, however the temptation was too much for these people.
"They have given them back and we hope it won't happen again with the example that has been made of them. It is a sacred site - that's what it was all about."
For more articles from this region, go to Hawkes Bay Today