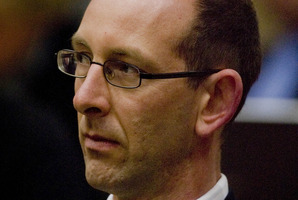 David Bain has won the right to have his case against the Justice Minister heard in Auckland.
Mr Bain is seeking a judicial review into how Ms Collins handled a report into his claim for compensation. The report was written by former Canadian Supreme Court Judge Ian Binnie.
The lawyer for Mr Bain, Michael Reed QC, asked for the case against Ms Collins be heard in Auckland. However, the Crown applied for it to be heard in Wellington.
In a decision released today, Auckland High Court Judge Patrick Keane ruled Mr Bain was "entitled to bring his application for review in the Auckland Registry of this court and I decline the Minister's application for transfer of the case to the Wellington Registry''.
Mr Bain's lawyers previously labelled the The Crown as "acting vindictively'' in its bid to shift the case to Wellington.
Mr Reed said Mr Bain did not have legal aid, had a "modest job'' in Christchurch and could not afford to take legal action against the Crown.
He said while Mr Bain would find it difficult to fight his case in Wellington, the Crown were able to fly an experienced QC up to Auckland to argue that a two-day hearing be held in Wellington.
"The Crown appears to be acting vindictively,'' Mr Reed told the Auckland High Court earlier this month.
"I haven't seen any bit of evidence as to why they want the case in Wellington. Why is it?''
But Ms Collins' lawyer Kristy McDonald QC said Mr Bain was asking for special treatment.
She said Mr Bain's claims are in relation to Ms Collins and her job as a Cabinet Minister and therefore should be heard in the capital.
"Despite the high profile of this case, generally, Mr Bain is not special ... There are many parties who are poor. Mr Bain has chosen to bring a judicial review.''
Mr Bain alleges Ms Collins abused his right to natural justice and his rights under the New Zealand Bill of Rights Act, acted in bad faith, abused her power, and acted in a biased, unreasonable and predetermined manner.
Mr Bain was acquitted of the 1994 murders of his parents, two sisters and a brother after serving 13 years in prison.
He has applied for compensation for wrongful imprisonment. Compensation payments are at the discretion of Cabinet.
Justice Binnie's report found that on the balance of probabilities Mr Bain was innocent of the murders, and had been wrongfully imprisoned.
Ms Collins had the report peer reviewed by former New Zealand High Court judge Robert Fisher, who found inaccuracies.
- APNZ