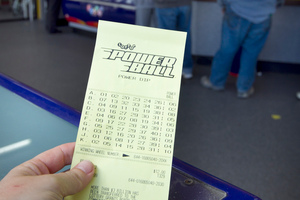 A Christchurch man went on a search for sticky tape and ended up $660,000 richer after finding an old Lotto ticket in his "odds and ends" drawer.
The man, who didn't want to be identified, made the discovery in the drawer last week when he found a pile of old tickets - including one with the unclaimed $666,667 prize.
"I had heard rumours that a prize was outstanding from a ticket bought in Christchurch, but I just thought it could never happen to me," he said.
The prize was from a draw in November and Lotto spokeswoman Hanna Kilpin said it was "quite unusual" for such a large prize to go unclaimed.
The man was searching for tape to wrap his father's birthday present when he found the tickets, and quickly checked them online.
"I phoned my parents to tell them and we had a good laugh. I think Dad was expecting a bigger birthday present after that news."
Ms Kilpin said he was "excited and overwhelmed and thinking more about what to do with his prize".
"Luckily last week our Christchurch winner presented his ticket," she said. "On average 3 per cent of our prizes remain unclaimed each year.
"In recent times our largest unclaimed prize was a $3 million First Division prize sold in Masterton in 2003."
Tickets were valid for 12 months after the draw date.
The man bought the lucky ticket from Templeton Convenience Store in Christchurch.