Extending programme past September could mean making it more targeted at low-income households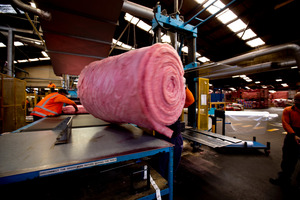 A subsidy that has helped to insulate about one in every six low-income homes looks likely to be cut back in next month's Budget to a more targeted scheme.
The Green Party, which won the subsidy in a post-election deal with the incoming National Government in 2008, is pushing for it to continue at the current level of about $70 million, reaching about 50,000 homes, a year.
But party co-leader Metiria Turei told industry leaders at Fletchers' Batts factory in Auckland yesterday that there "may well be a reduction in the money that is allocated to it".
"The Government is looking at whether, and how, to target, and we are talking to them about what those options might be," she said.
Energy Minister Simon Bridges said the Government was considering, as part of its Budget process, "whether or how the programme might be extended" beyond its scheduled expiry in September.
"Were it to continue - and I emphasise no decision has been made - consideration may be given to transitioning it to a more targeted programme towards households in need," he said.
He said the scheme had been "a huge success", with 204,000 homes insulated at a cost of $347 million.
A cost-benefit analysis led by Reserve Bank chairman Dr Arthur Grimes found the country gained almost $5, largely in reduced health costs, for every $1 spent on the subsidy - a net benefit of almost $1 billion.
But the study also found that the health benefits averaged $854 a year for households with community services cards, but only $336 a year for other households, and recommended that the scheme should be aimed at low income earners.
It already provides a higher subsidy of 60 per cent of insulation costs for households with community cards, against 33 per cent of costs up to a maximum of $1300 for other homes.
The differential has attracted relatively more low-income households - 91,348 of the 204,185 grants have gone to homes with community cards.
At last count, 977,000 people - about 29.4 per cent of all adults - had the cards. If the proportion of homes with the cards is also about 29.4 per cent, then the subsidies have been used to insulate about 17.7 per cent of all homes with the cards - one in six - compared with 9.1 per cent of homes without cards.
The cards are available to households earning up to $47,888 for two people or up to $82,695 for six people. However, almost 80 per cent (71,892) of the subsidies granted to households with the cards have gone to people, many of them elderly, who own their own houses.
Only 5.7 per cent of the country's rented homes have received the subsidy, compared with 14.9 per cent of owner-occupied homes.
Eco Insulation director Martin Wylie told Ms Turei that landlords had no incentive to use the scheme.
"In Auckland a house can't be rented out for more because it's insulated, so the landlord says, 'Why would I do anything to increase the insulation when I don't get any benefit from it?"' he said.
"There is no shortage of tenants. There is a shortage of houses."
Property Investors Federation president Andrew King said he had suggested letting landlords deduct insulation costs from their taxable incomes, or at least letting them claim costs back gradually as depreciation. The Government axed depreciation allowances for investment properties in 2011. But Mr Bridges said the Government would "probably not" provide a tax incentive.
Industry leaders said up to 1500 of the country's 2500 insulation manufacturers and installers could lose their jobs if the scheme was reduced.
Warm Up NZ
Insulation subsidies
• General: 33 per cent of insulation cost up to $1300.
• With community services card: 60 per cent of cost.
Who got them?
• Per cent of homes in each category that received subsidy
• Homes with community cards, 17.7 per cent
• Homes without community cards, 9.1 per cent
• Owner-occupied homes 14.9 per cent
• Rented homes 5.7 per cent