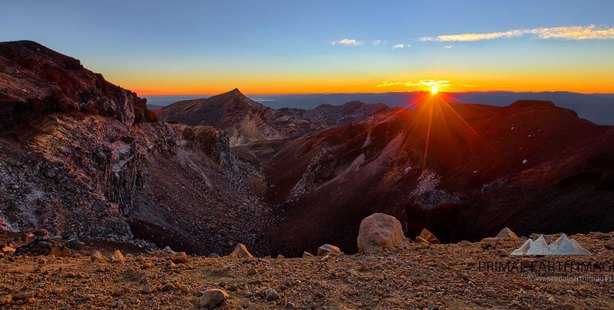 Taupo photographer Bevan Percival describes himself as a night owl.
Which is just as well, because his latest timelapse masterpiece saw him camped out for more than a few nights around the Central Plateau and Tongariro National Park, where he would be up and down numerous times to babysit his camera.
But the lack of sleep is paying off - just six days after first uploading his latest video to YouTube and Vimeo, Bevan had attracted 130,000 hits on his latest work New Zealand Landscapes Timelapse Volume Two.
***
New Zealand Landscapes Timelapse Volume Two from Bevan Percival on Vimeo.
***
It was also listed as a staff pick on Vimeo. As a result, the number of hits on Vimeo has soared from 20,000 to more than 112,000 in just four days with 375 comments from viewers around the world.
His first timelapse, New Zealand Landscapes Timelapse Volume One, released last June, has so far attracted 94,000 views and still rising. Bevan spent six months in his spare time investing hundreds of hours in recording Volume Two, helped along by the brilliant summer weather and clear skies.
"There's a lot of night time stuff and we had some nice clear nights and it was reasonably warm being out at night time and I could take the kids, so that was good," he says. "I would set the gear up close to the tent and jump out of the tent about 20 times during the night to check things were okay. I've always been quite a night owl I guess - I'm kind of used to it, it doesn't bother me too much."
The six-minute-long timelapse sequence, accompanied by music "Go Beyond" by Ben and Matt Hales, represents hundreds of hours of work photographing and then editing, all done in Bevan's spare time. By day, he is a roading engineer.
He says on top of putting the video together, finding suitable music to put with it that didn't cost a fortune for the licence was another time-consuming job.
In this video Bevan's progressed from using a static tripod to moving the camera with a motion dolly (a motorised camera rail), which he says has given a new dimension to this timelapse.
He also says the quality is a lot better because he's been able to put into practice the lessons he learned through doing Volume One.
After the success of Volume One, Bevan was asked for permission to use it in the New Zealand pavilion at the Frankfurt Book Fair and it was also used at the APRA Music Awards in Auckland last year.
Part of it was used in a documentary on the international space station and he's also been approached about using his work in a car commercial in America. Since he launched Volume Two, he's had half a dozen commercial approaches.
"It would be nice to be able to do it [photography] full time but the reason for me doing it part-time is I can test the waters and see if there's money to be made from it. The biggest part is building up a following or exposure so you can create a client base and initially you've got to spend hours and hours and hours trying to do that."
His next goal is to capture some South Island scenery on timelapse.