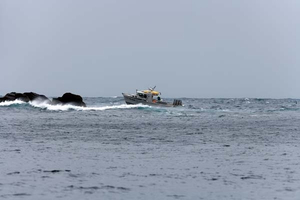 A fishing friend of K-Cee skipper Bruce Gordon, lost with his crewman Darren Allen, in "atrocious" sea conditions off Fiordland almost a year ago, says he knows they did not wear inflatable life jackets.
An inquest presided by Southern coroner David Crerar into the deaths of Mr Gordon and Mr Allen, of the K-Cee, and Kevin John Cosgrove and Nirvana Drew Reynolds, of the Govenor, in a separate incident, was held in Te Anau today and tomorrow.
Third witness Jeremy Excell, of Winton, whose company owns the Doubtful Sound-based fishing boat Exporta, told the hearing today he and his crewman fished in the same general area as other boats K-Cee and Zayla Jay, the latter skippered by Jason Jukes.
Mr Excell said weather conditions were "atrocious" on April 30 last year and he tried to call Mr Gordon without success all day. He said he knew roll out would be higher than up to 5m out at sea.
The Exporta and Zayla Jay headed out at about the same time the next day, and Mr Excell said he was "getting uneasy". He and Carol Brown, volunteer radio operator for the Fiordland Fisherman's Radio, had not heard from Mr Gordon, via radio or satellite phone.
Mr Excell said he went looking for the K-Cee and contacted Mark Hollows, who was hunting in a helicopter at Charles Sound.
Wreckage was spotted on the shore south of Rocky Point on May 1 at 9am and he hung his boat off the wreck until the first float plane arrived along with Southern Lakes Helicopters.
"I believe they got hit by a big wave in the vicinity out to sea of where the wreckage of the bow section was located on shore," Mr Excell said.
Fourth witness and paua diver Douglas Fox, of Te Anau, a close friend of Mr Gordon's, said he and fellow searcher Murray Braven saw a car-roof sized "glow"in the sea about 50m off the shore of Rocky Point.
The glow was the same shade of the bow of the K-Cee. The window for diving was missed by about a day, so they did a ground search and found debris, Mr Douglas said.
He said he disagreed with police there was no defined area to search, due to his discovery of debris and alloy marks on the rocks which he believed came from the stern of the K-Cee.
Mr Douglas said he, Mr Braven and Rob Emitt dived at the bow on May 5, the next window of diving opportunity.
They found parts of the wheelhouse amongst rocks, breaking up and dispersing, 50m to 100m off shore.
"Finding the wheelhouse door had been open at the time something happened indicates someone was working the deck," Mr Douglas said.
"At low tide all this debris was within 5m to 8m of water...
"I found a red shirt where we entered the water. It ended up being Darren's t-shirt and Robyn has that now.
"It didn't look damaged and I don't believe it was worn at the time."
The inquest continues.