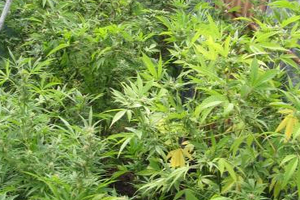 More than 20,000 cannabis plants have been seized and 99 people arrested in a major drug bust in the Bay of Plenty.
Detectives have executed 169 search warrants across the district in the last month, uncovering more than 700 plants at one address.
Some of those arrested have been charged with being linked to organised crime groups and the large-scale production and distribution of illicit drugs.
The raids also uncovered other drugs, cash, firearms and stolen property.
One warrant in Taneatua revealed 1200 grams of products valued at $50,000 that had the capacity to produce up to $337,000 worth of methamphetamine.
More than $40,000 cash was also located in the Taneatua raid, along with methamphetamine, LSD tablets, a firearm and ammunition.
Police said the hot and dry weather "may have provided good conditions for cannabis growers this year but it hasn't prevented police ... from raining on their parade".
Detective Senior Sergeant Lindsay Pilbrow said the operation saved about $52 million in social harm, the estimated financial cost of the cannabis trade on health, education, employment and social welfare.
"There is no debate to be had: drugs are a major social issue, especially in regard to our youth," Mr Pilbrow said.
"Smashing tinnie houses and removing other opportunities to cause social harm is going to have an effect.
"Several of the warrants we carried out during this operation were linked to organised criminal groups involved in large-scale production, distribution and sale of illicit drugs and the slightest dent in operations can have a major impact on their trade."
He urged anyone with information about illicit drugs to contact Crime Stoppers, anonymously, on 0800 555 111.
Area breakdown of search warrants:
Rotorua
- 50 search warrants executed
- 28 arrests
- 10 warnings
Western Bay of Plenty
- 45 search warrants executed
- 44 arrests
- 7 warnings
Eastern Bay of Plenty
- 33 search warrants executed
- 17 arrests
- 5 warnings
Taupo
- 41 search warrants executed
- 20 arrests
- 5 warnings
- APNZ