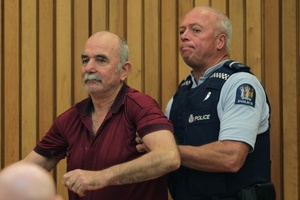 Rex Prole watched his estranged wife collect her mail from their mailbox then grabbed a kitchen knife, walked outside and stabbed her to death.
As her crazed husband rained down blows on her throat, chest and stomach, she screamed that she loved him and cried out for help.
The details of Robyn Anne Prole's death on July 29, 2012 were revealed after her 65-year-old husband, a Tauranga builder, pleaded guilty to her murder in the High Court at Rotorua yesterday.
A defiant Rex Prole pulled a jersey over his head to disguise his face when the Bay of Plenty Times was given permission to take his photograph.
The 65-year-old Tauranga builder wept as he told Justice Patrick Keane: "Guilty, your honour."
Prole wiped a tear from his eyes as the summary of facts was read in court, but otherwise showed little reaction.
The couple, who were married for two years, had lived at the same address until April 2012 when Mrs Prole, a teacher's aide at Brookfield Primary School, moved out after reporting a domestic violence incident to police.
A protection order against her husband was issued three months before the murder.
Mrs Prole, who had moved in with friends, regularly returned to collect her mail from the mailbox.
However, when she arrived at 2pm on July 29 and sat in her car going through her mail, Mr Prole approached her with a knife which he hid inside his trouser pocket.
He began yelling at her through the open window, then reached inside and grabbed her, before repeatedly stabbing her in the throat, chest and stomach.
Mrs Prole screamed that she loved her husband and tried to flee and move to the other side of the car, but he continued to attack.
She screamed for help, but he pulled her back towards him. He then removed the keys from the ignition.
A female neighbour witnessed the attack and yelled at Prole to stop, then phoned police.
Prole, still holding the knife, backed away from the car, and yelled for her to ring the police, then stood in the driveway watching the woman, who by that stage had gone inside her house with her three children.
He then returned to the car, looked inside, then still holding the knife, walked back down the driveway and leaned on a wire fence adjoining his neighbour's property.
Prole eventually returned to the car again, threw the knife on the front seat, walked back down the driveway and again leaned on the fence.
Police arrested Prole and attempted to revive his wife, but she died before the ambulance arrived.
Mr Prole told police that ever since the domestic incident in April 2012 he had become increasingly angry at his wife "for the lies she had told police and friends".
He said the protection order had heightened his anger and claimed he had only stopped stabbing his wife because he knew he had killed her.
Prole will be sentenced on May 23.
For more articles from this region, go to Bay of Plenty Times