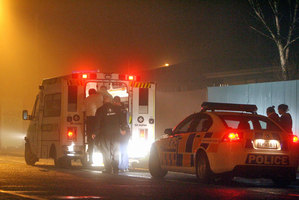 Neighbours heard a large bang when a Tokoroa house went up in flames, killing one person and leaving another man fighting for his life in Waikato Hospital last night.
The remains of a Dalmeny St house razed by fire in the southern Waikato town was cordoned off overnight, and a police investigation into what caused the fatal blaze was to begin this morning.
Police spokeswoman Kim Perks said the injured man, aged 47, was in a critical condition.
He had undergone surgery, and remained in Waikato Hospital's intensive care unit. It is believed he has serious burns.
A neighbour, who did not wish to be named, said he heard a large bang and ran outside to see the small house - hundreds of metres away - alight about 6.40pm.
"I heard a banging noise when it first started and I rang the fire brigade. It was like maybe the front window or something like that was smashing.
"I went outside and I could see the flames and they were getting bigger and there was somebody shouting."
Residents in adjacent houses had to be evacuated, he said.
Fire Service northern communications shift manager Dallas Ramsay said the blaze was "well involved" by the time two crews arrived.
"We got advised early on that one person was believed to still be inside and one person had been taken to hospital by ambulance," she said.
It is not yet known if the body found in the house if that of a man or woman.
* Read the Herald's live news blog here.
- With Newstalk ZB