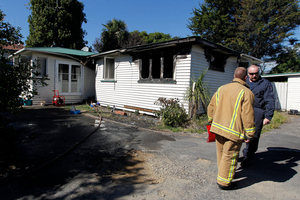 A 4-year-old boy raised the alarm after a fire broke out in a Hamilton home - but firefighters say smoke alarms would have given more warning.
Fire safety investigators are still to determine the cause of the blaze that started in a bedroom of the Norton Rd house about 10.20am yesterday.
The 4-year-old told tell his mother what was happening and they were able to get out of the house safely, Hamilton station officer Shane Thompson said.
"That's what we understand - the mother was alerted to the fire by the child coming down the hallway."
But there were no working smoke alarms in the house.
"It would have given them more time. The fire was well involved by the time we got there," Mr Thompson said.
A teenager who was in a sleep-out also escaped unharmed, while a neighbour called 111.
The family were waiting outside when the fire engines arrived. The unit is one of several in a block but the fire was contained before it could spread.
Mr Thompson said the boy did a good thing "at least by telling the mum" about the fire, but he could not say what started the fire. "Details are still a bit sketchy."
* Read the Herald's live news blog here.