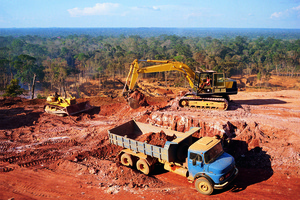 A Northland Maori leader says minerals exploration company De Grey Mining Ltd is not welcome in the region.
Benjamin Pittman, of Ngati Hau, said De Grey should relinquish all exploration permits within the Puhipuhi tribal area. Ngati Hau has asked other hapu, community groups and people to unite in support to protect water, wahi tapu, land and people from "the threat of toxic mining centred on Puhipuhi".
Puhipuhi, 30km north of Whangarei, has the largest known gold deposit in Northland and its rock can also be steeped in mercury.
The mountain forms the headwaters of the springs, streams and rivers that flow to the Bay of Islands, Helena Bay, Mimiwhangata, Hikurangi Swamp and Kaipara Harbour.
Last year a gold and silver exploration licence over much of Puhipuhi was transferred from mining giant Newmont to the Australian company De Grey.
"De Grey Mining intends to drill core samples soon and we want to make it clear they are not welcome at all," Dr Pittman said.
"Our paramount responsibility is to protect our water source and we do not consent to drilling or mining which could lead to contamination of waterways above and below ground with mercury and other heavy metals.
"We are taking this stance for all who live in this area."
The process to remove the gold would create vast amounts of toxic waste - conservatively, 18 tonnes of toxic waste to produce the equivalent of one gold ring - in an area that is extremely flood prone, Dr Pittman said.
Meanwhile, the Northland Economic Action Group (NEAG) is calling on the Government to give as much information as possible on the pros and cons of mining. Chairman Shane Lloydd said the Government should be providing more and better information to assist Northland communities understand the issues and opportunities.
The business and development sector group said mining could be a key job creator and boost the Northland economy. The group's minerals representative is Far North mayor Wayne Brown, who recently attended a minerals and mining forum in Canada on behalf of the sector and NEAG. Mr Brown told the group the region should encourage smaller mining companies to invest in local prospecting.
A NEAG sub-group has been formed to progress the issue, Mr Lloydd said.
For more articles from this region, go to Northern Advocate