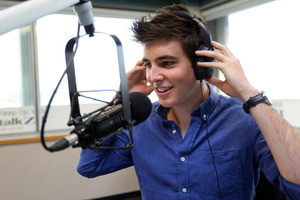 Fresh-faced new radio host Jack Tame has breathed a sigh of relief.
Tame, who replaced Sir Paul Holmes on Newstalk ZB's Saturday morning show, has lifted its ratings in the latest radio survey.
The TNS New Zealand Commercial Survey found the 25-year-old increased the commercial share of listeners from 4.06 per cent to 4.11 per cent.
Tame, who is also the New York correspondent for the Herald on Sunday and TVNZ, said he was pleasantly surprised.
"My producer has been gently lowering my expectations, saying we will probably get a hit," he said.
Newstalk colleague Mike Hosking continued to dominate the No1 spot for breakfast with a 17 per cent commercial share.
RadioLive, from competitor MediaWorks, took an overall hit, dropping 1.6 per cent.
The biggest fall was in the nine-to-noon show, previously hosted by controversial Michael Laws.
MediaWorks spokeswoman Rachel Lorimer said the impact of Laws' successor Sean Plunket and new Drive host Duncan Garner would not be seen until the next survey.