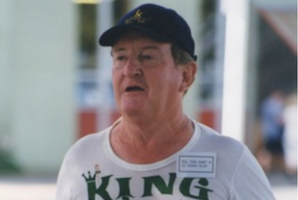 Terry Sheehan, known as the "King of Devonport" since one of his many practical jokes in the seaside suburb, has died, aged 79.
The unofficial title dates back to April 1, 1978, when Sheehan declared a Republic of Flagstaff (Devonport's old name), appointed himself its king and had his "Dad's Army" rugby mates blockade the peninsula, arrest celebrities and issue "currency".
The town went along with the joke and partied - and gave generously for a successful fundraiser.
A monument to his humour is a plaque laid one night in Windsor Reserve, which states: "On this day in 1897 absolutely nothing happened."
Devonport born and bred, Mr Sheehan was organiser and selector of the Evergreens rugby team, which raised money for the IHC.
He persuaded top-flight players such as Bryan Williams and Kevin Barry to take part, and also organised rugby "test" matches between local players and Fiji Army soldiers when they trained at Devonport defence establishments.
An accomplished master of ceremonies, revelling in sportsmen's dinners, he was capable of telling jokes for two hours on the trot and was a fundraiser and speaker on behalf of the Neurological Foundation throughout New Zealand.
He worked in advertising and published Rugby Weekly and Bowls Gazette. His life story, Life Among the Larrikins, was published in 2007.
Mr Sheehan died last Saturday after several years of poor health, leaving his wife, a daughter and three sons.
In three pages of instructions, he requested a private family burial, a life celebration held yesterday afternoon at the North Shore Rugby Club, and penned his death notice for the Herald classifieds.