Meridian is about to pay less for homeowner's surplus solar power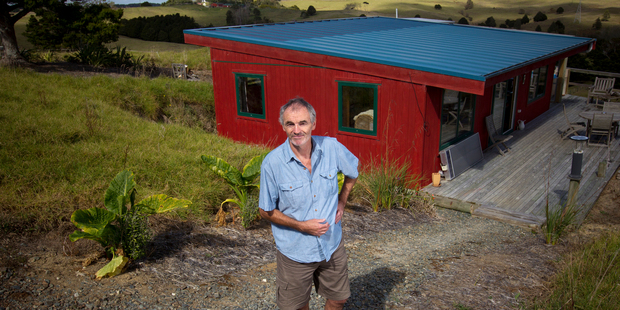 At 10 o'clock in the morning it is briefly quiet inside the Northland house which is also a small power station.
Small in the sense that it has just two bedrooms, a bathroom and an open room which includes the dining table, kitchen space and working area with two computers and floor to ceiling shelves crammed with textbooks, CDs, bulging files and reminder notes.
And quiet for a moment because Eric Jansseune, who built this home power plant four years ago, is distracted while he fills the kettle for a morning coffee.
For the rest of the time he cannot stop declaiming his passion for solar power, for what he considers failures in energy policy, for cowboys who he says give the solar industry a bad name and for the power company he considers is screwing him over.
Last year Jansseune, a Belgium-born solar engineer, earned $463 for feeding electricity to the grid from the solar blanket stuck to his roof.
That was after running his small ply house and carefully managing his power consumption. For first two months of this year he was still ahead by $64.
His is a small, highly energy-efficient house which he shares with his partner Carla and her teenage son Luca.
For the moment the family's power bill doesn't exist and is a long way from the annual cost for an average household of three to four adults of between $2000 and $2300.
From Monday this is about to change because Meridian Energy, which buys the power which trickles from his place, is slashing the price it pays its network of small suppliers. Instead of paying the same price per unit which it sells to Jansseune, Meridian has revised its charges for the 730 customers across New Zealand who generate surplus electricity. Its new price is close to that of Genesis, another generator which buys power back from consumers.
Overall, New Zealand is out-of-step with many countries, including Australian states, which pay generous "feed-in" tariffs - the term for power companies buying energy from consumers and which have driven the rapid growth of renewable power supplies.
As a result most other economies have a much deeper solar industry than New Zealand.
Subsidies abound, though not here now that grants for solar hot water systems were scrapped last year after 11,000 grants were paid out.
The Government takes the view that New Zealand had abundant renewable energy and doesn't need to encourage feed-in tariffs, or FITs.
A Ministry of Business, Innovation and Employment spokesman said: "The Government wants to avoid placing upward pressure on electricity prices. There does not appear to be a need for FITs in NZ at this point."
Still, more and more homeowners are investing in solar technology, which the Sustainable Electricity Association New Zealand (Seanz) says has reached the point where energy costs less from a quality solar power set up than from the grid.
Jansseune thinks he might come out even, but believes the revised tariff is a setback for homeowners who, in the search for ways to cut power bills, have invested in their own power plants.
Most have solar set-ups, while a few have micro-wind or water generators.
The number is growing, because the cost of components has fallen sharply in the last few years and the quality has improved.
At his house, 55-year-old Jansseune has gone about as far as it possible to embrace independent technology.
Besides the glued roof strips with ultra-thin power-producing photovoltaic sheets, he has a separate rooftop flat plate with a toughened glass lid for solar hot water linked to a stainless cylinder in the bathroom beneath, and a deck-mounted solar panel which, when needed, draws warm air into the house.
Every window and door is double-glazed and gas for cooking and topping up the water temperature in winter comes from a pair of 45kg LPG tanks strapped to the south-facing rear wall and connected to a califont.
An insulated concrete floor absorbs heat during the day, releasing it at night to warm the interior. Jansseune calculates the house uses less than 2 kWh a day compared to 15 to 25kWh required by most Kiwi homes.
Jansseune hosts workshops at his ply house, 3km from Kaiwaka and set among paddocks grazed by his small cattle herd. When he runs visitors through his set-up, his message is a simple one: it is possible to cut your power bills without investing a fortune.
He calculates his five year old set-up cost $50,000. With the steep fall in solar prices, he estimates the same set-up would now cost around $20,000.
Now studying at AUT for an engineering doctorate, Jansseune says the New Zealand solar industry has suffered from equipment failures, overhyped claims and limited support from governments keen to keep dividends flowing from state owned generators.
Bill Highet, general manager retail for Meridian, defended the generator's new pricing plan, saying it was driven by rising numbers of customers selling power back to the generator.
When the number was low Meridian absorbed overheads such as industry levies and servicing costs.
But the company estimated it was losing $500,000 a year paying customers for the power they fed back to the grid.
"It's not fair to pay them a retail rate when essentially at that point they are competing on the wholesale market," Highet said.
"If they want to be a business then we'll have a business conversation."
Highet said Jansseune was on a low user rate, which meant he paid less at night. Because the Northlander could draw on his solar set-up during the day he had "a pretty good deal."
Despite the new charges, Meridian had a steady stream of inquiries about solar. Highet said Meridian was aware of complaints about some solar operators and only recommended firms it had audited.
Adrian Kerr, chief executive of the the Solar Industries Association, which deals with water heating systems, accepts that for some time the solar business had a poor reputation.
Water heating units rusted and broke, installers did shoddy jobs and customers had legitimate grips. Promised power savings never eventuated and the industry endured a bad press as thousands of consumers claimed a government subsidy to buy solar hot water packages, some of which never delivered claimed benefits.
"I'd say to Eric that those days are behind us," said Kerr, a former solar scientist who had worked with Jansseune on solar water heating.
The association is introducing an assurance scheme which Kerr believes will give consumers peace of mind.
The scheme, which should be running by mid-year, identifies accredited suppliers, retailers and installers. It ranks systems by gold, silver or bronze grades, tailored to different conditions around the country. "We want the industry to stick its hand up and give good guidance rather than just sell what a supplier stocks in a warehouse."
Cut your bill
• Not everyone can live as frugally as Eric Jansseune, and run an electricity credit. But there are a few simple measures householders can adopt to save on their annual outlay, short of spending thousands on a renewable set-up.
• Shop around. Power supply prices differ. Go to powerswitch.co.nz for comparisons.
• Check water heating and home heating. Hot water cylinders use up to 33 per cent of the home energy budget, so wrapping, temperature control and fixing dripping taps can save hundreds of dollars a year. Insulation in the ceiling, under the floor and in the walls can sharply reduce home heating costs, which account for around 22 per cent of a domestic power bill.
• If you want to go solar, ask an installer for references for older systems still going strong. Get advice from industry bodies Seanz and SIA.It is possible to cut your power bills without investing a fortune.Eric JansseuneAt 10 o'clock in the morning it is briefly quiet inside the Northland house which is also a small power station.