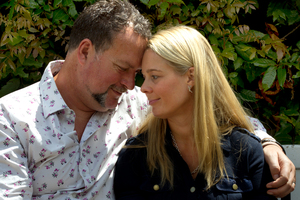 A trial into the deaths of 19 people, including 13 children, at Qatar's Doha Mall wrapped up as the mall was being evacuated for a second blaze.
Both fires at the Villagio mall have been blamed on an electrical fault, but yesterday everyone escaped from the building uninjured.
Two-year-old New Zealand triplets Lillie, Willsher and Jackson Weekes, along with 10 other children and six adults were killed in the first deadly fire that swept through the Gympanzee nursery at the mall on May 28 last year.
Doha News reporter Shabina Khatri told Radio New Zealand a trial into who was at fault for that fire was finishing yesterday about the same time people were being evacuated from the mall because of another fire.
A judge will now review the lawyers' written submissions and issue a verdict in June, Ms Khatri said.
If somebody was found guilty, they could be sentenced to jail or make a payment instead of being imprisoned.
Ms Khatri said the families of the people who died in the mall were disappointed there would be such a long wait before a verdict would be made.
Yesterday shoppers and workers were evacuated after a fire broke out in a clothing store, the Doha News website reported.
The fire was caused by an electrical fault in an air-conditioning unit, the Interior Ministry tweeted.
Ms Khatri said there were conflicting reports into how well the evacuation was conducted.
"Some people said it went very smoothly, other people said they barely heard the alarm and others said they were just pushed out of the door and it was chaos."
The New Zealand couple who lost their young triplets in the first fire said there were obviously still safety problems that needed to be addressed.
Martin and Jane Weekes, said a friend of theirs was having coffee at the mall with her twins when the fire began during the afternoon (local time).
The friend posted on her Facebook page she heard no alarms, but suddenly people were pushing and screaming to get out, Mrs Weekes said.
"There are reports the evacuation at the opposite end of the mall was okay and that there was alarms, but it doesn't appear to be consistent throughout he entire mall."
Mrs Weekes said her friend and her children were uninjured.
Mr Weekes said he and his wife had always been concerned that problems were inherent in the mall in terms of fixtures, fittings and the design.
"They appear to have improved the evacuation procedure, but they don't appear to have managed to actually resolve the issues with the constructing and materials."
Mr and Mrs Weekes revealed last week that they were expecting twins in August.
- APNZ