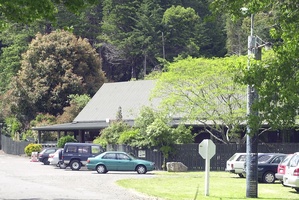 A 2-year-old boy who almost drowned in a hot pool continues to recover in hospital.
The owner of Awakeri Hot Springs holiday park, near Whakatane, said the toddler was not supervised by adults when he was found face-down in the hot pool.
The youngster is recovering in Starship Children's Hospital in Auckland where a spokesman said the boy was in a stable condition this morning.
Awakeri Hot Springs owner Kevin Haig said he believed the boy's adult minders had gone to a nearby barbecue area to talk to their friends while the youngster was swimming.
Mr Haig said the pools were surrounded by a high fence with a latch too high for a child to reach.
An older child raised the alarm when the boy was found face-down in the water and was not breathing when he was pulled out by a person who knew CPR.
The boy was thought to have been underwater for more than a minute.
He started breathing after about 30 seconds of CPR, and then began to cry.
The Department of Labour is investigating the incident, and police said they were "not conducting an inquiry".
- APNZ