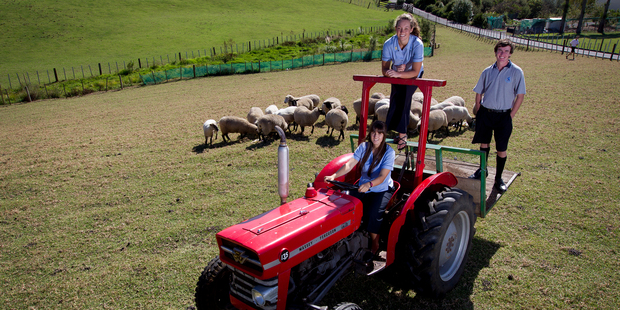 One of central Auckland's green spaces has been secured after a new lease agreement which will enable an 81-year-old teaching farm to carry on.
The 8.1ha model farm next to Mt Albert Grammar School, home to cattle, sheep and pigs, has allowed students and members of the public to learn about agriculture since 1932.
ASB Bank will continue to lease the land to the school for a 99-year term, at a nominal annual rent of $1. A function at the grounds yesterday marked the lease's signing.
The school's headmaster, Dale Burden, said the farm was important for both the school and the wider community. Its role in education had changed in recent years, however.
"In the early years, the programme provided skills for employment in rural farming positions for boys.
"While recent graduates continue to find employment in the rural sector, others have been admitted to tertiary programmes such as bachelor of veterinary science, and diplomas of agriculture and horticulture," Mr Burden said.
Year 13 student Jessica Munro has studied agriculture at the school for four years, and said the chance to have practical lessons on the farm was invaluable.
The 17-year-old is now considering entering agribusiness once she leaves school. "I wouldn't have even had it as an option probably [without studying on the farm], I wouldn't have really thought about it."
The farm has a one-stand woolshed, pens to hold 150 sheep overnight and a two-stand milking shed.