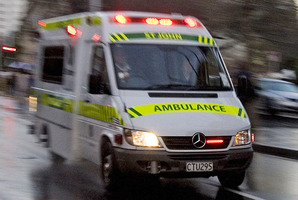 A man's throat was cut in an accident at a glazing company in Napier yesterday.
The man, thought to be about 50, suffered severe cuts to his neck and shoulder at Napier Glass. Ambulance officers were called at 2.10pm.
St John Ambulance Service Hawkes Bay operations manager Stephen Smith said the man's airways were "partially compromised" and a second ambulance crew arrived to assist before the patient was rushed to a waiting surgical team at Hawkes Bay Hospital in Hastings.
Mr Smith said the man's workmates were "certainly providing good life-saving care" before the ambulance arrived.
A police officer also attended the scene and Ministry of Business, Innovation and Employment safety inspectors were expected to investigate.
The man was last night in a critical condition in the hospital's intensive care unit.
The company is owned by Peter and Amanda Mickleson. Mrs Mickleson confirmed last night the injured man was an employee.
For more articles from this region, go to Hawkes Bay Today