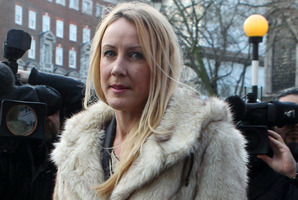 A New Zealand mother who lost a court battle in Britain to stop her 8-year-old son from receiving radiation therapy for cancer says her worst fears over the treatment have been realised.
Sally Roberts made headlines last year when she went on the run with her son Neon, then 7, to stop him having the treatment after surgery to remove a brain tumour.
They were found after a five-day search and Ms Roberts subsequently lost a court battle over Neon's treatment in December.
Ms Roberts was concerned about the risk of brain damage as a result of radiation therapy, but her estranged husband, Ben, sided with doctors who said Neon would die within three months without the treatment.
Neon has had 30 rounds of radiotherapy since January, which Ms Roberts says has broken her once happy boy.
Ms Roberts, originally from Auckland but who now lives in Devon, told the Mirror newspaper that her son was "not the Neon I know any more".
"I look into my little boy's eyes and there's nothing there. Just docility and compliance," she said.
Ms Roberts, who wants to treat Neon with alternative methods, said she was most scared the radiation would change and damage her son.
"And it's done both."
She told the Mirror that Neon's hair had fallen out in clumps and he was depressed, emaciated and weak.
"He's broken. His whole body is grey and fragile. He has chronic fatigue. He cries over the smallest things. He barely eats any more and has to take anti-sickness pills to keep down what he does eat ... and he's just 8 years old."
Ms Roberts is able to spend only a few hours a week with Neon after the courts gave custody to Mr Roberts until the treatment is complete.
She said Neon's twin sister, Elektra, who lives with her, did not understand what was happening and missed her brother.
"I tried to stop doctors pumping radiation and chemotherapy drugs into him that he doesn't need. And because of that I don't get to wake up with him any more. I don't get to cuddle him before he goes to sleep."
Ms Roberts said her estranged husband, a Londoner, was a good father, but he had not done as much research as she had.
Neon is due to start chemotherapy on April 8.
- APNZ