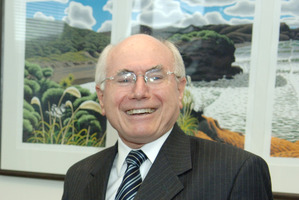 Former Australian prime minister John Howard has defended a policy introduced during his time as leader that many Kiwis living across the Tasman say reduces them to second-class citizens.
The special visa category which has been given to New Zealanders entering Australia since 2001 allows them to work without restrictions but prevents them getting entitlements that permanent residents and citizens automatically get - such as social welfare benefits, access to student loans, emergency housing or future participation in the national disability insurance scheme.
Up to 150,000 expatriate Kiwis are said to be affected by the policy, many of them who have worked across the Tasman for several years and pay taxes.
Mr Howard said today there were were "justifiable reasons" from Australia's point of view at the time to implement the changes.
"I think what was done then, given the responsibilities that we had to people in Australia and the Australian population, I thought the decisions that were taken were fair, and there was an understanding reached between the two governments at the time," he told TV One's Q+A programme.
"I don't think I was seen as an Australian prime minister who was in any way unfriendly or unsympathetic to New Zealand."
However, he admitted some Australians were condescending towards New Zealanders.
When questioned over whether the policy remained fair and if any changes were a possibility, he said it was a matter for the current prime ministers of New Zealand and Australia.
"I don't have any regrets about the major policy decisions that I took."
He declined to apologise to New Zealanders who believed they were being treated as an underclass in Australia.
Current Australian Prime Minister Julia Gillard has ruled out any changes that would allow New Zealanders access to unemployment and other welfare benefits if they fall on hard times.
- APNZ