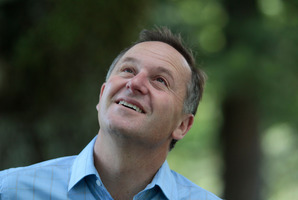 The Oxford Dictionary definition of a "honeymoon" is, as well as the post-wedding variety, "an initial period of enthusiasm or goodwill".
There is no time limit on a honeymoon, but they usually do not last for more than four years and almost certainly do not last that long in politics.
However, in the fifth year of his premiership, Mr Key's personal popularity has stayed above 60 per cent in the Herald-DigiPoll since he became Prime Minister in 2008, apparently only slightly bruised by the winds that have battered his government.
His predecessor, Helen Clark, never made it above 60 in the survey. Her high point was 59 per cent one month before the 2005 election. Mr Key's peak was 72 per cent in February 2010 - although he shot from 46 per cent to 70 per cent almost overnight after being elected Prime Minister.
In comparison, Helen Clark was a slow starter whose honeymoon was delayed. She hit 56 per cent four months after becoming Prime Minister in 1999 in a minority coalition with the Alliance.
They lingered in the 30s and low 40s until the 2002 election.
After 2002, her personal ratings bounced up into high 40s and low 50s - where they remained until the start of 2008 when John Key, then leader of the Opposition, drew equal and overtook her.
In her last poll as leader of Labour, just before the 2008 election, she was still getting 42 per cent support.
Mr Key first appeared in the Herald-DigiPoll's preferred prime minister poll in December 2005 just after National lost by a small margin to Labour. He polled 4 per cent. He continued to register in the single figures until he took over as National's leader in late 2006 and shot up to 36 per cent almost overnight.
Of earlier prime ministers, National's Jenny Shipley hit a high of 32 per cent in October 1999. Jim Bolger, (1990 to 1997), ranked in the 10s and 20s for most of his tenure, although he did get 31 per cent in the Herald-DigiPoll in March 1997.
In the 1980s Heylen Polls, commissioned by TVNZ, former Prime Minister David Lange (1984 to 1989) peaked at 40 and stayed in the 30s for most of his first term before tailing off into the 20s by his fourth year in power.
Mr Key's popularity may have outperformed his predecessors but there are indications it is slipping. Since the 2011 election, he has slipped from 71 per cent to 63 per cent.
The 3 News Reid Research poll in February showed that those who rated Mr Key as performing well had dropped from 68 per cent in November 2011 to 57 per cent, and 52 per cent believed he was out of touch with "ordinary people".
Read more: John Armstrong: How brand National survives the follies