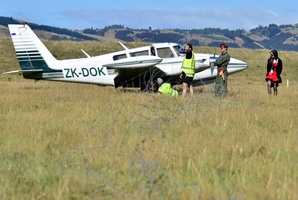 There was a look of horror as Hamilton pilot Richard Small watched his 1969 Piper Twin Comanche touch down at Taieri Aerodrome and crash off the end of the runway yesterday.
Just moments earlier, he commented how dirty his $200,000 plane was looking, and how strange it felt to be watching it rather than flying it as it did a high speed fly-past over the airfield about noon.
As the plane touched down more than halfway down the runway, he was advised by a fellow pilot: "Don't look, don't look," as the plane ploughed through a fence at the end of the runway and came to a halt.
Fortunately, the two men and a woman on board were able to walk away without so much as a bruise.
Although Mr Small was concerned about his aeroplane, he was more concerned at the time for those on board.
The plane was one of more than 30 taking part in the Flying New Zealand Air Safari - Mr Small is one of the organisers which is why he was not flying the plane.
The aircraft were flying in from Wanaka, and stopping at Taieri Aerodrome to refuel and have lunch, before continuing to Timaru.
He had hired his plane to the young trio so they could take part in the safari.
After emergency services left the scene, he credited the pilot for his good decision-making skills.
"These kinds of crashes happen. I've seen four or five go through fences at the end of runways.
"Once he [the pilot] got that far into it, he was committed. He made the right decision to take the fence out because if he had tried to boot the aeroplane and go around again, it could have been a lot worse."
He said the damage to the plane was "relatively minor" and mainly affected the fuselage.
Flying New Zealand president John Brunskill believed the pilot was very experienced.
He also believed the pilot did the right thing by choosing to go through the fence.
Had he caught the fence while still in the air, it could have flipped the plane, causing more serious injury to those on board, and more damage to the plane, he said.
"Taking off and landing is the most dangerous time - it's all about timing."
Despite the incident, the 10-day air safari continued as normal to Timaru.
Mr Small said the safari began in Masterton and flew to Wanaka, via Hokitika, on Wednesday.
The plan was to do a "figure eight" around New Zealand, with the aircraft flying around the North Island this weekend before finishing in Motueka on Wednesday.