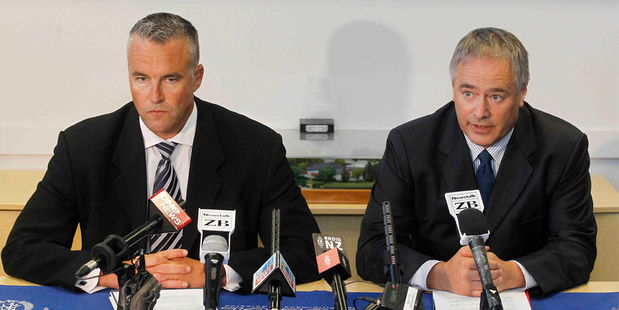 Police investigating the fatal shooting of a road worker near Tokoroa yesterday say no one heard gun shots.
Detective Inspector Tim Anderson told a press conference in Taupo today that a logging truck driver saw Hamilton man George Charles Taiaroa, 67, fall to the ground but did not hear any shots fired.
The Hamilton man was operating a stop-go sign about 3.20pm yesterday on Tram Rd in the Kinleith Forest area which bridges the Waikato River.
He had stopped a vehicle to allow a logging truck from Rotorua firm Rotorua Forest Haulage to cross a bridge.
As the driver passed Mr Taiaroa after crossing the bridge, he saw the road worker fall to the ground with gunshot wounds.
The other stop-go operator was about 200 metres from where Mr Taiaroa collapsed.
Mr Anderson said the shooting appeared to be an isolated incident.
"We have had a good response already from the public and we have a number of reports we are following today."
He said police were following up on a number of vehicles which could have been involved, including a blue four wheel drive-type vehicle similar to a Jeep Cherokee.
When asked about any motive for the killing, Mr Anderson said: "It is only day two and it is too early to speculate around motives."
Mr Anderson said there were more than 30 experienced police staff from Rotorua, Tauranga and Taupo working on the investigation.
In a statement released by Mr Taiaroa's family today, they said they were dealing with the loss of a loving husband, father and grandfather.
"This has been an unexpected and shocking event for everyone concerned. The family would like to acknowledge the overwhelming support they have received."
A local woman who knew Mr Taiaroa briefly said he enjoyed a beer and a steak occasionally.
"He was pretty cheeky, a chirpy, lovely man who always had a smile and a word to say," she said.
"We were supposed to meet up for a beer on Saturday and then this happened, it's awful, just so tragic."
Earlier, Detective Inspector Mark Loper said police appreciated that the community would be concerned by yesterday's tragedy and will want to know what they can do.
"The community has a significant role to play in this investigation going forward. Every piece of information, particularly in these early hours and days could be vital; no matter how small or irrelevant that information may seem."
Police were particularly keen for people who were in the Atiamuri area and its surrounds to think back to 2.30pm to 4pm yesterday and report to police any vehicle seen speeding or driving erratically.
Officers would be supporting the man's family, who hopefully could help catch the killer.
"Background information from the family will be vital to the investigation going forward," he said.
Mr Taiaroa worked for national company HEB Construction, and earlier had been working with a crew on a new State Highway 1 bridge at nearby Atiamuri.
That bridge opened this week.
HEB chief executive Derrick Adams told Radio New Zealand yesterday that staff were "absolutely devastated".
The company's director Bruce Pulman told the Herald that staff were trying to find out more details.
"We're not fully up-to-date, police had the place in lockdown. I believe he was one of the stop-go boys."
Police said there was no need for locals to panic.
A spokeswoman said: "We can reassure the public that police are working hard to resolve this incident at the earliest opportunity."
The Rotorua-based BayTrust Rescue Helicopter was called to assist as ambulances rushed to Mr Taiaroa, who died at the scene, near the Tirohanga Bridge. A section of Tram Rd was closed while police examined the scene.
The killing happened in a rural area where there are few houses.
One farmer said the first he'd heard of it was the rescue helicopter, while others were shocked to come across the police roadblocks.
From the top of a hill overlooking Tram Rd and the Waikato River a logging truck, from Rotorua Forestry Haulage, could be seen parked near the middle of the cordoned-off road.
Anyone with information should contact Taupo Police on (07) 378 6060, or anonymously contact Crimestoppers on 0800 555111.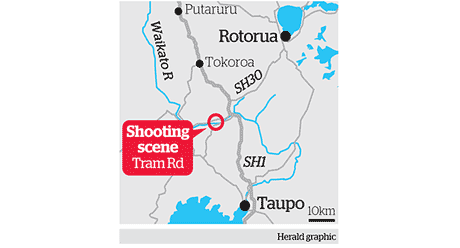 * Read the Herald's live news blog here.
- NZ Herald with APNZ