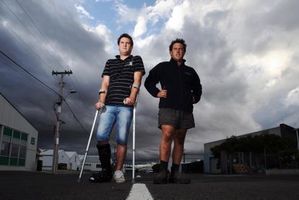 A former boy racer is rallying support for an event which aims to take speeding cars off residential streets.
Last Thursday, Taradale man Steven Climo, 26, launched the Facebook page "Let's get a drag strip in Napier," to air the idea of an annual street meet where people could satisfy their need for speed in a safe and legal way.
"If they want to do 130km/h or 140km/h, let them do it on the track," he said. "I'm talking about getting [a stretch of] road in an industrial area, where you can race just for the day."
Drag racing was less about young people displaying their cars and more a way to beat boredom, he said, so why not give them something to look forward to?
"I used to be a boy racer a long time ago and we would do the same thing. It's always been huge here.
"It's not really about showing off the cars, it's that there is nothing else to do. There's the movies and putt putt (golf) but the movies are expensive and putt putt, well, it's putt putt."
With the help of his brother Matthew, 24, Steven was encouraging people to make a stand on Facebook and back the idea.
Already there had been plenty of positive feedback and support from individuals and businesses.
They hoped to get more than 1000 "likes" before approaching police and Napier City Council about the possibility of holding a race day. The event would not be paid for using taxpayer money, but would be funded by businesses which would come on board as sponsors.
Steven said the same model had worked elsewhere. "They do it in Taupo and it's really popular in Whanganui. People come from all over to take part."
Cars would have to be legal, hold a current warrant and registration, also go thorough a scrutineering process in order to qualify.
"I want to work with the police, too, because at the end of the day, they're the ones who have got to go to crash scenes at 1am because people are racing."
Hawke's Bay police couldn't commit to the event without knowing more detail but Eastern District communications manager Kris McGehan said they would certainly take a proposal on board.
"We would be happy to discuss it with them and find out what they would like to do,"
she said.
"We want to hear their views."
Napier City Council road asset manager Jon Schwass acknowledged there had been similar events in Onekawa's industrial area but they had generally been run by the Hawke's Bay Car Club. "For those motorsport events we require that they are run under Motorsport New Zealand rules.
"That's where these events start to come adrift because the requirements are so strict," he said.
Any activity would also require written approval from all businesses affected by the road closure, which was not a complete impossibility as it had been done before.
"The council will not come in to promote it - we don't do that for any event but it's not a complete dead duck."
For more articles from this region, go to Hawkes Bay Today