Mt Albert Grammar's scholarship aims to bring star pupils back to the classroom.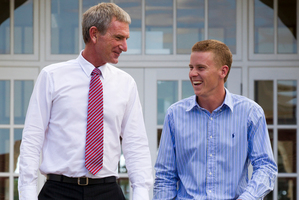 In an effort to attract the best and brightest into teaching, a central Auckland school will pay the university fees of former students who want to become teachers.
A new scholarship will put a former Mt Albert Grammar School student through a one-year graduate diploma in teaching course free of charge.
Headmaster Dale Burden said the hope was that the students would become teachers at the school, which would have first refusal if a suitable position were available soon after graduation and the student was the best candidate.
But the most important aspect of the scholarship plan was to encourage more of the co-educational school's top students to consider teaching as a career.
The first recipient of the scholarship is Carl Perry, a former head boy at the school.
Mr Burden said he "badgered" Mr Perry to approach the school's foundation to discuss going into teacher training.
"And while we were contemplating all of that, they came up with the idea, why don't we put something in place for others?"
He said several past students would have made excellent teachers, and it was a source of frustration that many had chosen other paths.
Teaching could not compete with other professions on earnings alone, but it was important to stress its positive aspects, such as the chance to have a real effect on students' lives and development.
"We have a responsibility as well, because we've got a capture group of 400 potential teachers in Year 13 going off to university."
Mr Perry, 22, said he had thought about getting into teaching while completing his bachelor's degree in physical education, and was grateful for the foundation's assistance.
He was already involved in coaching sports teams at his old school, and said those activities were a reason he was keen to teach.
"Trying to influence students' lives in a positive way. Not just in school, but to lead a better lifestyle out of school as well."
Mr Burden said any past students interested in taking up the scholarship should contact the MAGS Foundation - a charitable trust and the school's fundraising group - to obtain more details.