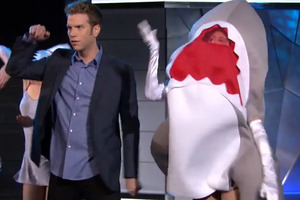 The Muriwai community is disgusted by a US TV show that pokes fun at New Zealand shark attack victim Adam Strange.
The show, called the Jeselnik Offensive which airs on the Comedy Central network, "gives thanks" for the death of Mr Strange with a "shark party" featuring scantily-clad women.
Host Anthony Jeselnik is given a lap-dance by a woman in a full shark costume before a photograph of Mr Strange is displayed on a screen behind him.
"But let's not forget the man that made this all possible," he said.
"Smile, you son of a bitch. And that brings this year's total of people killed by sharks - 1, sharks killed by people - 17 million."
Mr Strange was killed as he swam off Muriwai on Auckland's west coast a fortnight ago.
The chairman of the community's Surf Lifeguard Service, Tim Jago, said locals he had spoken to about the video were "disgusted".
"The fact that it's in incredibly poor taste isn't in question. I couldn't find where the humour was in it for a start, so it was pretty lame in that respect.
"I guess what's also disappointing and what shows how far off the mark these people are is the comments around shark finning and killing sharks, which is an issue that is really distressing to Adam's family because he was a conservationist and totally respectful of sharks.''
Mr Jago said trying to force humour out of somebody's tragedy was "pitiful at the best of times".
"I guess the thought that ran through my mind was if a New Zealand comedy act tried to make fun out of something like a high school shooting in America, they'd be on our backs and condemning us straight away."
* NZ Herald has chosen not to include the video because of offensive content.
- APNZ