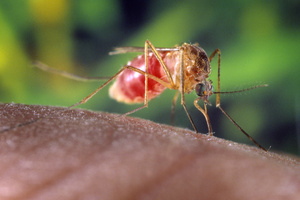 A damp start to summer followed by a prolonged spell of dry weather has provided perfect conditions for biting insects.
Mosquito, flea and bedbug populations are thriving, prompting a surge in sales of repellent.
Some pharmacies have reported business doubling since 2011/12 and one has recorded a 300 per cent increase in two months.
Christchurch-based repellent manufacturer Skin Technology has recorded its highest sales ever.
Chief executive James Fraher said that was despite most people believing the risk of being bitten is lower in dry conditions.
"Hot, dry weather can create ideal breeding conditions for biting insects. As wetlands, marshes, mangrove swamps and other naturally damp areas dry out, mosquito larvae flourish in the warm, shallow, stagnant pools of water that are left behind."
Darren Labrum, who owns Wellington Pest Management, said business was booming.
"The key for all insect survival is the night temperature, so because it hasn't really been below 10 degrees for a long, long time, the numbers have increased a lot."
Mr Labrum had noticed an increase in fleas, mosquitoes and bedbugs, which have attracted more white-tailed spiders to urban areas.
Massey University entomologist Professor Qiao Wang said aphids and crickets would also be thriving in the drought.
How to beat the biters
*Keep away from swampy, marshy areas and areas of bush and flowing water.
*Regularly drain vases, swimming pool covers, clogged gutters, and anything that collects standing water.
*Clear rotting debris from the garden, including fallen fruit.