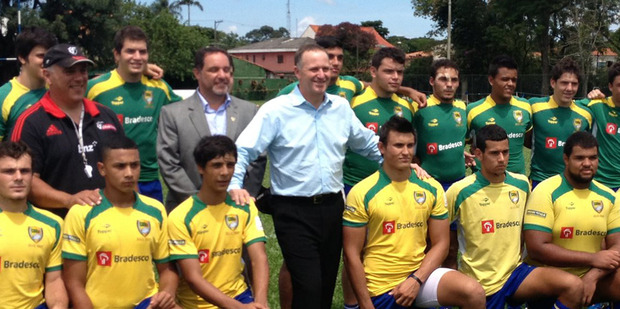 When the Crusaders coaches arrived in Brazil to coach rugby, they found one problem with the fitness approach of the players: Brazil is hot and young men like to look good when their shirts are off.
The decision to give Rio the Olympic Games in 2016 has re-energised Brazil's plans for the Rugby Sevens which will feature in the Olympics for the first time at those Games.
In Brazil, football is the beautiful game - and rugby the ugly stepsister. Only about 13,300 people play the sport out of almost 200 million people. However, the Olympics have made some nervous that national pride will be dented - and so last year they called on the Crusaders to help them avoid humiliation in the art of the oval ball.
When Prime Minister John Key saw the Crusaders' coaches with Brazil's Under-19 side in Sao Paulo yesterday, they were hard at work.
The Crusaders' Darryn Collins has a five-year contract with the Brazilian Rugby Confederation to provide elite coaching.
Mr Collins discovered their fitness was not that great. Brazilian players' worked out in the gym on upper body strength but were poor aerobically.
Mr Key doubted that helping Brazil would damage New Zealand's chances in the Sevens, and the contract with the Crusaders was both good economically and for foreign relations. "... it is essentially an export of sports technology and they get paid for it."