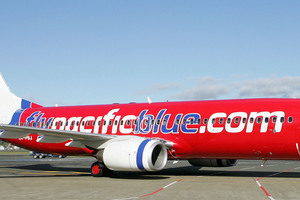 The Pacific Blue airline pilot convicted of flying carelessly out of Queenstown made a series of mistakes that "seriously impacted" on safety margins, says a judge.
Judge Kevin Phillips said "no reasonable or prudent pilot" would have tried to take off in conditions like the ones the 54-year-old faced on June 22, 2010.
The flight left for Sydney at 5.25pm when the light was poor, in cloud below the minimum altitude and in a heavy crosswind and also didn't have a suitable contingency plan - a clear breach of industry requirements.
The pilot, an Aucklander with 33 years' commercial flying experience, was found guilty of carelessly operating the Boeing 737 after a defended hearing over four weeks last year.
He has interim name suppression and will be sentenced later this year.
The charges were brought to court by the Civil Aviation Authority.
In his ruling, released on Friday by the Queenstown District Court, Judge Phillips said: "I am satisfied that the defendant ... was careless in his manner of operating the aircraft.
"The defendant ignored the mandatory requirements and, in their place, used his planned self-designed contingency. I have found against him on this issue."
The judge also said the facts he had found established "clear fault" on the part of the pilot. Of concern were a "don't sink" alert from the cockpit at 700ft (213m) and a "bank angle" alert after the pilot had corrected the aircraft.
"Each one is on its own some concern, taking into account the nature of the aircraft and the surrounding terrain and the proximity of Lake Wakatipu ... The safety margins at the time were, in my decision, seriously impacted on."
Pacific Blue said it had received the judgment and was reviewing it.