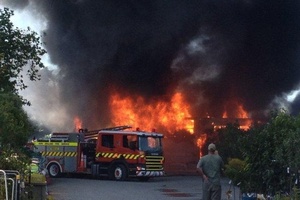 A discarded cigarette butt has been blamed for a blaze that wreaked $250,000 worth of damage to a shed, vehicles and equipment at a Masterton garden supply firm.
GardenBarn owner Laurie Hatchard said fire investigators told him a lighted cigarette butt had likely caused the fire that broke out - while shoppers were browsing at the premises - in a storage shed, staffroom and work space at the rear of the High St family business on February 3.
About 20 firefighters took less than half an hour to extinguish the fire, which gutted the building and destroyed a tractor, forklift, a worker's vehicle, fertilisers, a bagging-potting machine, special label printers, and about $10,000 worth of plants, trees and shrubs.
Mr Hatchard said the company plans to construct a production and storage building on the same site in a development expected to be complete by June.
The business underwent significant expansion and rebranding two years ago, he said, and the latest plans would complement those changes.
He said the new building would also feature a customer social area that would be used for refreshments and discussion during planned educational tours of the operation.
"After the fire, we got together and talked about 'where to from here' and the idea for tours came out of that," he said.
"We've dramatically increased our production and we're bringing out special landscaping plants that will be the best quality and inexpensive. We are rising from the ashes."
For more articles from this region, go to Wairarapa Times-Age