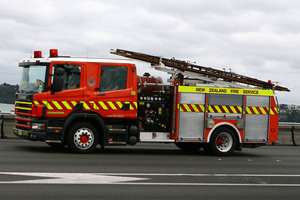 A volunteer fire brigade says public abuse from people breaking the Horowhenua's blanket fire ban has some volunteer firefighters reluctant to attend callouts to unpermitted fires.
Horowhenua Volunteer Fire Brigade support officer Carl Beisel said volunteers who give their time to protect the community were fed up with the abuse they're receiving following several volatile incidents.
"To be abused for doing this important work is counter-productive for all of the communities they serve," Mr Beisel said.
Volunteer brigades are a critical resource, helping to give their communities a sense of peace of mind knowing that they were there in case of a fire or road crash.
"Volunteers spend countless hours of their own time, training, improving their skills and practising so that they can do their job to the highest possible standard," he said.
With the training that volunteers are given, the quality of service delivered by volunteers equals that given by paid New Zealand Fire Service career staff.
The message from Mr Beisel is simple - respect these men and women. They take on a job for no pay for the satisfaction of protecting the communities they live in.
For more articles from this region, go to Wanganui Chronicle