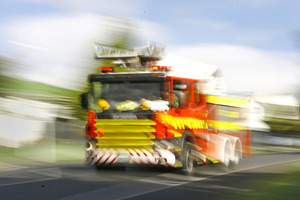 Helicopters will be used to fight two fires on North Island forestry and conservation land which broke out overnight.
Wairarapa firefighters were called to an area of forestry land on Ngahape Rd, in a remote rural area east of Masterton, where a fire broke out about 9.30pm.
A rural fire unit, a command unit and a tanker were battling the blaze, which grew to about 1ha last night and had likely grown overnight.
Fire Service central communications shift manager Chris Dalton said helicopters would help battle the blaze this morning.
Rural fire crews would also tackle the fire from the ground.
"If it's in a forestry block, you still have to get the ground crews in there to turn everything over."
Mr Dalton said there were a number of pine plantations in the area.
Meanwhile, Department of Conservation staff will this morning assess a fire on conservation land off Wanganui River Rd, between Raetihi and Wanganui.
Access to the area is difficult because staff have to cross the Wanganui River by boat or helicopter.
Mr Dalton said a DoC staff would fly in about 7.45am today.
- APNZ