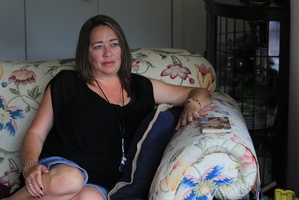 Twenty years ago today Tauranga woman Tania Parnwell lay unconscious in a Brisbane hospital bed unaware she had just had a liver transplant.
It was not until she woke several days later with a scar across her stomach that she found out about her emergency dash across the Tasman and the life-saving operation.
Now, two decades later, she still wonders who lost their life and in doing so saved hers.
"Mum did send them [the donor family] a card but we never had any correspondence back," she told the Bay of Plenty Times.
"Sometimes I joke about it being a man's liver because my life changed so much ... I used to shop all the time but shopping was not such a buzz after that. Once you go through something like that it changes your outlook on everything."
The anniversary of Mrs Parnwell's transplant is always a time of mixed emotions.
"There is an amount of guilt. Someone has lost their loved one and I've had 20 years longer than they've had. It's a really hard concept to try and understand," she said.
"After 20 years it's still a really conflicting thing. Someone said I should use it as a second birthday but I don't feel like it. Often it's quite an emotional day for me. I don't think of me. I think of the donor and the donor's family and wonder who."
The last thing Mrs Parnwell, then 23, remembered was being admitted to Tauranga Hospital's intensive care unit after vomiting for four days.
Having got sunburnt at the weekend she thought it was a bad case of sunstroke but, unbeknown to her, she had contracted Hepatitis B and her liver was shutting down.
The next day, after losing consciousness, she was flown to Brisbane, as liver transplants were not performed in New Zealand at that time.
And on March 6, 1993, a week after becoming ill, she was given a new liver.
"I was young and healthy and overnight it happened and I woke up in Australia. It was such a shock, psychologically and physically. For a long time I almost resented it," Mrs Parnwell recalled.
"I have a letter from a doctor who said I was one of the sickest pre-transplant patients they had ever seen."
She stayed in hospital three months - and was given a $70,000 bill.
An appeal was launched in Tauranga for Tania McBride, as she was then known, and successfully raised $150,000 to pay hospital and other expenses, including the flight.
The Bay of Plenty Times covered the appeal at the time.
An architectural draftswoman at the time, it was two years before Mrs Parnwell returned to full-time work.
"It took a long time. I suffered with depression and I guess post-traumatic stress disorder and that's still a lurking thing," she said.
In 2000, she married Gavin.
Nine years ago they had their son, Riley, who was conceived just as they were about to try IVF.
While the anti-rejection medication she takes twice daily is a constant reminder of what she has been through, Mrs Parnwell said she enjoyed good health.
"I can't believe it's been 20 years. It's amazing."
For more articles from this region, go to Bay of Plenty Times